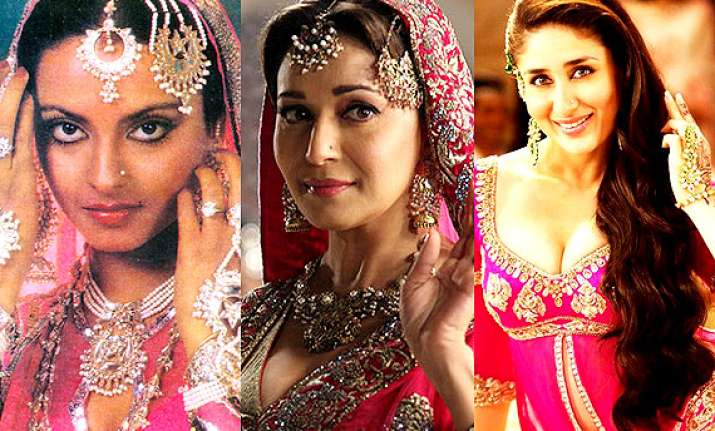 New Delhi: Mujra is a dance form, which originated in the Mugal era and was performed by courtesans.
This beautiful dance form has always had a special place in Bollywood films.
From Madhubala gracefully dancing in 'Mugal-e-Azam' to Kareena Kapoor sizzling on screen in 'Agent Vinod', actresses have often graced the screen with mujra numbers.
This classical dance form is no piece of cake and requires elegance and poise. The portrayal of mujra in Bollywood movies have changed a lot.
The portrayal of mujra in Bollywood movies has changed a lot but still it the grace and charm with, which the actresses pulls the dance form is incredible.
Here are our top ten hottest mujra queens of Bollywood:
1. Rekha:
Every time someone says mujra and Bollywood together, we can't think of anyone but Rekha. She looked absolutely stunning in 'In Aankon Ki Masti' and 'Dil Cheez Kya Ha'from 'Umrao Jaan'.
Rekha is still a mujra queen who can give any present-day actress a run for her money.
Another jewel of hers is 'Salaam-e-Ishq' from 'Muqaddar Ka Sikandar'.
 2. Meena Kumari:
The queen of mujra - Meena Kumari did a wonderful and inspiring job in classic hit numbers 'Chalte Chalte', 'Inhi Logon Ne' and 'Thare Rahiyo' from the film 'Pakeeza'.
No one can match her elegance and 'ada'. '
Inhi Logon Ne' is still favourite among people when it comes to mujra.
 3. Madhubala:
Yesteryears actress Madhubala swayed her fans with her performance in Mughal-e-Azam. Her song 'Pyaar Kiya Tho Darna Ky'a is evergreen.
She was not a trained dancer like most of her contemporaries, but she pulled off the hit Mujra number with elan.