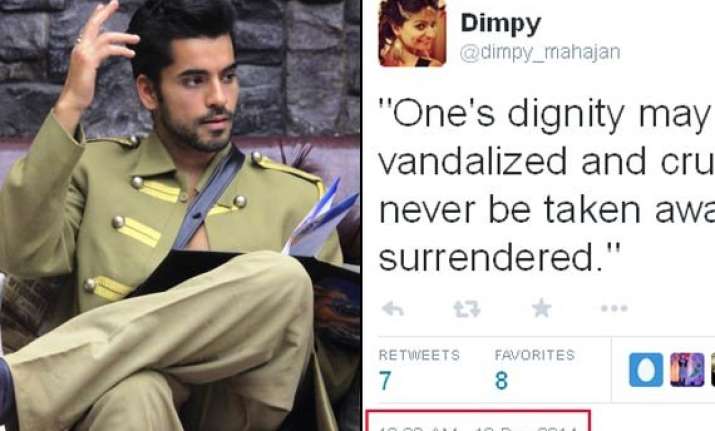 New Delhi: Bigg Boss 8 witnessed a grand house party and while many interesting moments caught our eye in the episode, there was a moment that definitely demanded us intriguing to it.
Amid the entire fun and entertainment that the Bigg Boss 8 contestants had at the party, it came quite striking to watch Dimpy and Rahul Mahajan indulging an emotional conversation. At the pool side, both Dimpy and Rahul shared a close moment when Dimpy mentioned that she was glad to see him on the show.
And after such hyped drama and the fuss around that so-called lavish party, what has also gained a bit of highlights is Dimpy Mahajan's tweet. The model-turned actress has given away a tweet in light of the encounter she had with estranged husband Rahul Mahajan on Bigg Boss 8.
The tweet in which the lady has quoted actor Michael J Fox says, "One's dignity may be assaulted, vandalized and cruelly mocked, but it can never be taken away unless it is surrendered."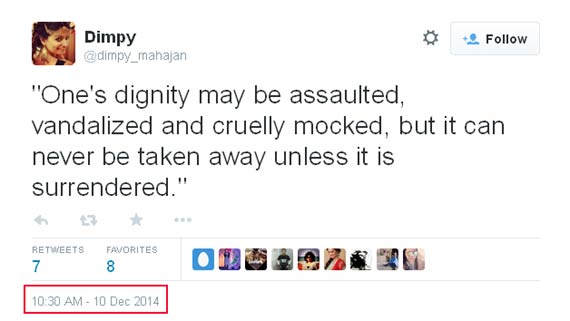 Now, what the tweet holds and what chemistry does Rahul and Dimpy shares is something we would like to delve later into. For this moment, we are more concerned to know that is Dimpy Mahajan or any other current Bigg Boss 8 housemate for that matter, allowed to use social media inside the house?
And even if someone else is using their official twitter account (say PR or other on their behalf), are the contestants allowed to express what they are feeling from inside the house through any media, except the television of course?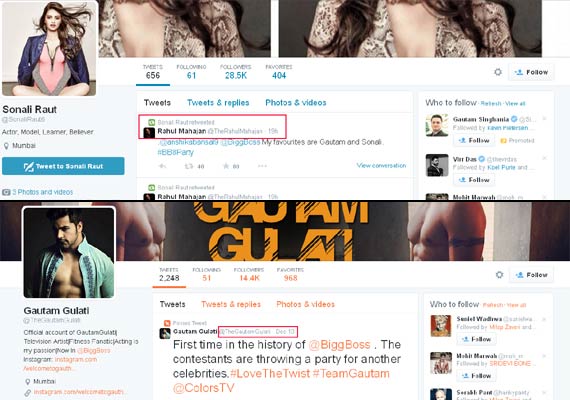 While this tweet by Dimpy surely forced us to think on the Bigg Boss' rules and stated norms through the concept of this popular reality show, we also dug deep into the matter. And when we looked for other contestants' official twitter account to verify, the results were truly astonishing.
While contestants Diandra and Karishma Tanna last used their twitter account evidently on September 20 and September 17 (i.e. before entering into the show) respectively, Gautam Gulati and Sonali Raut's official twitter handles show the usage dated to just a few hours ago.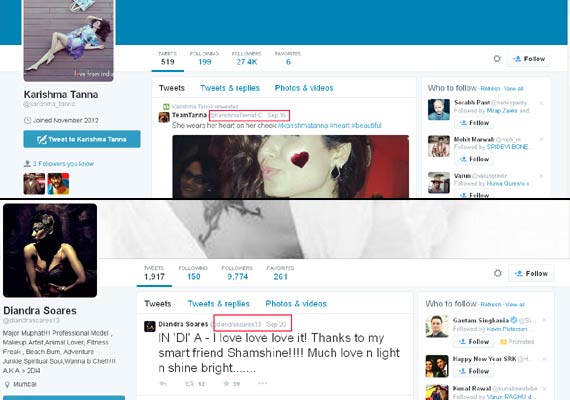 There have many allegations about the show being scripted and planned thoroughly; here we are skeptical about the authenticity of the basic concept of Bigg Boss. If there's anything all agree as the basic ground of the show is the fact that a few people from different walks of life are made to live together in a house temporarily constructed for a structured period of a few months.
And during their stay in the house, none of the contestants has any access to any kind of communication medium accept for the television on which they can have a weekly word with the host, Salman Khan. No Newspapers, radio, I-pod, Phones, Laptop, I-pad etc. etc. are allowed in order to make sure they are completely cut-off from the world outside the Bigg Boss house.
Packed with such stringent laws, how come contestants like Dimpy, Sonali, Gautam are using social media (Twitter) to express what they are thinking by tweeting or retweeting the stuff.