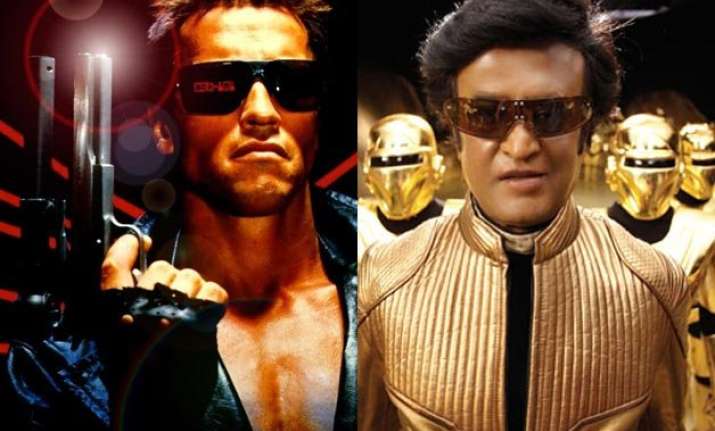 New Delhi: Two men embodying the adjective 'legendary' may soon be seen together on the big screen. Hollywood superstar Arnold Schwarzenegger will reportedly be making his Kollywood debut opposite none other than superstar Rajinikanth.
The movie in conversation is Enthiran 2 or Robot 2, for those who watched the Hindi version of the movie. The first instalment of Robot released in 2010 and was a huge hit. This sci-fi movie, directed by S. Shankar, was well received throughout the country. The critics appreciated the attention to detail in every scene while the audiences loved it for the entertainment.
So when rumours started that Robot 2 will be made, it was obvious that the cast should be as huge as the movie itself. In the year 2012, rumours made the rounds that actor Aamir Khan would be playing the antagonist in Enthiran 2.
But rumours were all they were.
Following Aamir's exit, Shankar has reportedly roped in a new baddie for the movie and it is Arnold Schwarzenegger. The 'Terminator' star shares a close relationship with Shankar. He had attended the audio launch function of 'I' which was a Shankar movie starring actors Vikram and Amy Jackson.
It was during this visit that Arnold has expressed interest to work in Tamil movies. Apparently, he will be visiting India for 25 days for the filming. Although, there has been no official confirmation yet, given Arnold's equation with Shankar it is fairly plausible.
Endhiran 2 or Robot 2 is in the pre-production stage according to reports. The filmmakers are busy finalising locations.
If things fall in place and Arnold does star in Robot 2, it would be the best gift for movie lovers.