Follow us on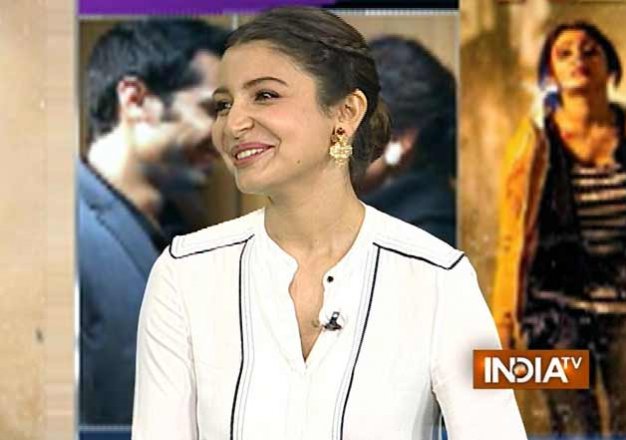 Exclsuive: Anushka, Neil and Darshan on why shooting NH10 was scary, challenging and rewarding!
New Delhi: Anushka Sharma is one such lady who likes to keep her professional & personal life at distance of each other and that was all too visible, when she along with co-stars Neil Bhoopalam and Darshan Kumar visited IndiaTV News' office ahead for her promotional stints in Delhi.
Going by this quite intriguing interview, you'll find that she chose to answer questions strictly related to her upcoming film NH10 and avoided others related to Virat Kohli.
Although her beau is currently in Australia for the World Cup 2015, for Anushka her home production NH10 holds her priority at the moment, and that's why you can see her meticulously participating in the promotional events of the film.
As the entire cast seemed to be in a joyous mood, take a look at what questions did she answered and which ones she chose to ignore!
Question: Where does NH10 promises to take us all? Is it a joyful journey, thrilling experience, or a romantic stroll?
Anushka: Indeed NH10 belongs to thriller genre and no doubt would be an absolute entertainer - the movie keeps you on the 'edge of seat' arousing the curiosity with every scene.
Question: After 9 hits so far, NH10 would be your 10th in line, and 1st as you turned producer with this one. Did all of this make you nervous or was it all easy?
Anushka: Ofcourse I was nervous, as everything was at stake for me with this one. You know it's always quite nervous when one is into 'acting' as it defines and directs your career, but producing it as well was quite testing.
Nh10 is close to my heart; we have been working on it since past 2 years and have grown some expectations which we hope are met with audiences' reaction.
Question: Neil & Darshan, which one did you find better Anushka 'the actor' or 'the producer'?
Neil: As co-star!
Darshan: I would say both, as she was herself acting in this one, and knowing how tough it is for an actor and the crew to shoot at real locations - she did her best to ensure our comfort. Actually her being an producer was in favour for us!
Question: Do you think NH10 turned around the way you expected it to be in the beginning?
Anushka: While we were busy preparing it, each one of us had this sweet fear whether audience will feel and experience the same passion like we had all along.
We have got quite satisfying appreciation for our trailers and posters & we hope film gets even more than that.
 
Q: You chose real locations for your movie; did you encounter any real-life terrifying occurrence as well?
Darshan: There were many, but I specifically remember this one incident where all these local people in huge numbers surrounded the shooting area. Some guys went to the extent of performing dangerous stunts like, firing and bike stunts to impress Anushka, which made us all scary and we had to cancel the shoot that day.
 
Q: Do you think that an 'A' certificate would hinder viewer-ship?
Anushka: Movies like NH10 require an audience with certain level of maturity, so we are fine with itand we understand. See shooting on real locations and depicting things which otherwise happen in the real world is got to be explained in the language spoken by real people.
And sometimes certain scenes are so heated that you just can not use polished and polite language as it we snatch away the essence of that scene.
For full interview watch video: