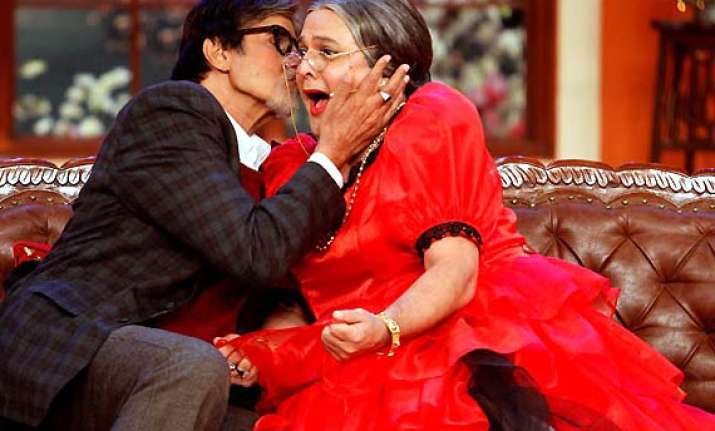 She may have forcefully kissed many young and dashing dudes of Bollywood, when they turned up guests on Comedy Nights with Kapil. But it was a shocking moment for 'Dadi' a.k.a Ali Asgar, when Big B himself planted a kiss on his cheeks.
The moment came as sweet surprise for many, even host
Kapil Sharma
was left blushing when Amitabh Bachchan kissed Ali Asgar.
Shooting with Bollywood megastar Amitabh Bachchan for an episode of his show "Comedy Nights With Kapil" was an experience in itself for stand-up comedian Kapil Sharma. He is in awe of Big B's demeanour and says that the audience will see him letting his hair down in the Sunday episode.
Amitabh will appear on the show to promote his next film "Bhootnath Returns", set for an April 11 release.
"It was a great experience shooting with Amitabh Bachchan. I have become his fan all over again. His energy and the way in which he makes the other person comfortable is amazing," the 33-year-old told reporters Thursday at the unveiling of comedian Sunil Pal's video "Vote For Sunil Pal".
"When I shot the promo with him on the first day I was ready two hours before the schedule and when he came he realised that I was very nervous. He made me very comfortable before the shoot with his humour and we completed the promo shoot. Then we shot the episode on another day, which you will see this week," added Kapil who has hosted big names like
Shah Rukh Khan
,
Salman Khan
, Akshay Kumar and Hrithik Roshan.
Talking about the highlight of the episode, Kapil says unlike other TV shows, the audience will see Big B as a jolly man full of humour on "Comedy Nights With Kapil".
"The highlight of the episode is that you will see Bachchan saab in a very jovial mood unlike other shows in which he stays very calm. In our show's atmosphere, you will not feel that he has come here for the first time... rather it looks like that he knows this family for a very long time," said Kapil.