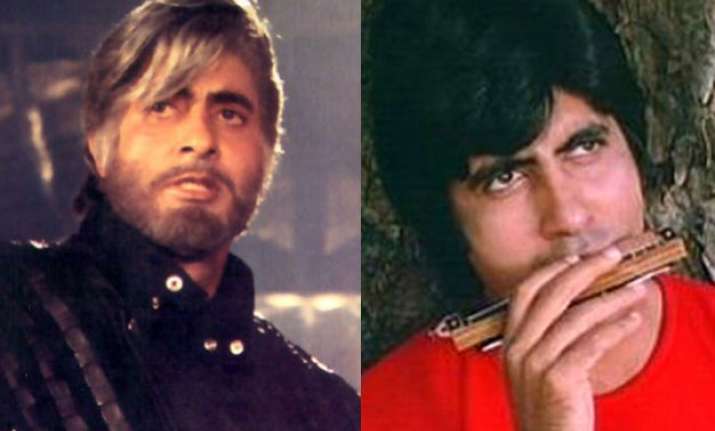 October 11 is special for millions of Bollywood fans across the world, as on this day, the megastar and the first angry young man of Indian cinema, Amitabh Bachchan was born. Hindi film industry is as empty without him as the sky would be without stars.
He is turning 73 today. Despite spending over four and half decades in the industry, he still works on his dialogues with same sincerity and passion as a newcomer does.
Every movie buff claims to know everything about Amitabh. What was his debut movie is a question in primary section general knowledge. His life's struggles which made him a superstar, is a story that is told to almost every child in India by their parents.
The tale of how his voice which defines his masculine charisma was once rejected by the All India Radio, is narrated in a million different ways by a billion Indians. His near-fatal accident on the sets of 'Coolie' brought the entire nation to a standstill.
What is it in Bachchan that his 'time' just doesn't come to a halt? While Bollywood has seen stars rise and fade away, Amitabh is like a steady rock who hasn't left its place.
When he was riding high on success in the years 1970's and 1980's, Bollywood's first superstar Rajesh Khanna was seeing a downfall. Going by this pattern, if a new star meant the decline of a present one, Big B should have dulled out after Rishi Kapoor ventured into Bollywood. But this did not happen.
Not by the growth of another star, but Amitabh did see fainted years in his illustrious career.
There was a time in his career when he became pessimistic. Insiders reveal that the Coolie accident took a toll on Big B, both physically and mentally. Before every movie's release he used to say. 'Yeh Film To Flop Hogi!' (This movie will flop). If this was not enough, in the late 1989, Stardust and other leading magazines imposed a 15 years press ban against Amitabh.
His brief stint in politics, too did not turn out well for him. Though, he won a Lok Sabha seat in 1984, he was not happy being a politician. The years 1988 to 1992 were difficult on Amitabh as an actor. Most of the movies he worked in including Jaadugar, Toofan and Main Azaad Hoon bombed at the box office.
Till 1996, Amitabh took retirement from film industry and he did not appear in any new releases. He started the production company, Amitabh Bachchan Corporation, Ltd. (ABCL) in 1996 with a vision to be a premier entertainment company.
But his bad days became worse when ABCL went bankrupt. At the age of 57, when most seek retirement, Amitabh lost all he had earned in these years.
Talking about his dark phase the superstar of the millennium had said in one of his interviews, "In the year 2000, when the entire world was celebrating the new century, I was celebrating my disastrous fortune. There were no films, no money, no company, a million legal cases against and the tax authorities had put notice of recovery on my home."
But maybe Amitabh Bachchan was not born to be easily defeated. He is after all the son of celebrated Hindi poet, Harivanshrai Bachchan. In one of his interviews, Big B had accepted that his father's poems kept him going during his gloomy days.
'Tu Naa Rukega Kabi, Tu Naa Thakega Kabi, Kar Shapath, Kar Shapath, Agnipath, Agnipath, Agnipath'; his father's poems had inspired freedom fighters, how could Amitabh remain indifferent to it?
Amitabh made a grand comeback with Aditya Chopra's directorial Mohabbatein (2000). He also made his television appearance with the game show Kaun Banega Crorepati?.
With KBC, Bachchan carved his own niche and a new set of moviegoers loved him. People replaced his, 'Rishtey me to hum tumhare baap lagte hai' with 'Lock Kiya jaaye?' and recited it like a chant.
The possessor of a baritone voice, Big B did not look back after the millennium year intervened. He was a part of hit movies like 'Kabhie Khushi, Kabhie Gham', 'Kaante', 'Veer Zaara', 'Shootout at Lokhandwala', 'Sarkar', 'Bhootnath'. He made his Hollywood debut with the 2013 movie, 'The Great Gatsby' with Hollywood stars Leonardo DiCaprio and Tobey Maguire.
If you ask Amitabh, what it is being like Amitabh Bachchan. How does he manage to surpass himself every day, he will say it is easy being Big B. He has mentioned many times that all you have to be is hard-working and stay enthusiastic.
The monumental figure Amitabh is, it can't be denied that even in his sunset years he looks mightier than ever. We wish the eloquent Big B, a happy birthday!