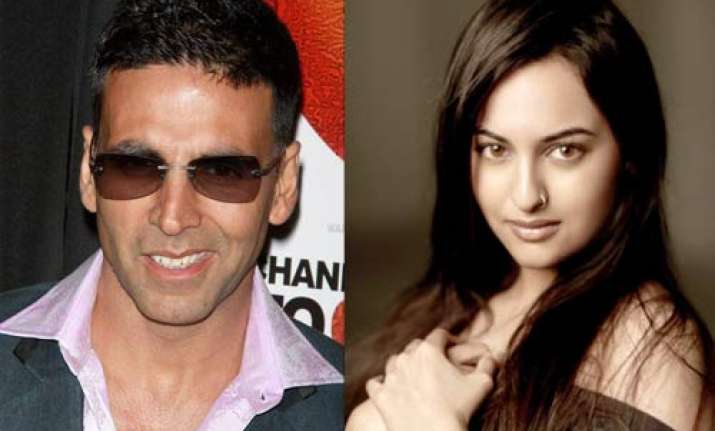 Bollywood star Akshay Kumar's banner Hari Om Productions have signed up Shatrughan Sinha's daughter Sonakshi for Shirish Kunder's Joker, reports Delhi Times.  
Shirish says, "Joker will be India's first 3-D magnum opus. And the reason why I've signed Sonakshi is because she is ideally suited for the role. Also, Akshay has acted with almost every heroine on the scene. Sonakshi and he are a fresh pair; the casting is already creating ripples.''  
Says Akshay: "Joker is not a super-hero film. It is not about me wearing some clown's clothes or being part of a circus. Why it is called Joker is something you'll have to wait to know. However, I can tell you, it is going to be one of the most technically advanced movies made in India. Children and adults are going to love it. The story moves from a village to NASA and well after that there's some suspense involved.''
Akshay says 2011 will be as action packed as any other year in his career. Says he, "I have Patiala House, Thank You, Joker, my international film — Rob Lowe's Break-Away (in which I have just done a music video), and we may try and bring Joker for Christmas in 2011. But then, tell me one year in which I don't have four films coming.'' Shirish and Farah Khan are also working on the Tees Maar Khan sequel. "That is for 2012,'' Akki says. "Right now the three of us are putting all our energies into Joker."
Says Sonakshi: "I got to work with one superstar in Dabangg and now I'm getting an opportunity to work with the second one,'' she says. "Very few people get a break such as this. The fact that Joker will be in 3-D is taking my excitement to a whole new level."  
Adds Farah, "We have had a happy collaboration on Tees Maar Khan. We have made a good entertaining film in the budget we were allotted. The synergy has been really good. So Akki, Shirish and I decided to make one more film."Farah says the script of Joker lends itself to a 3-D format quite nicely. "Joker is not a love story,'' she says. "It's more of a human drama and a very visual film.''
Tees Maar Khan is releasing worldwide on December 24. Akshay's Hari Om Productions has given out films like Singh is Kinng, De Dana Dan, Khatta Meetha, Waqt — A Race against Time.