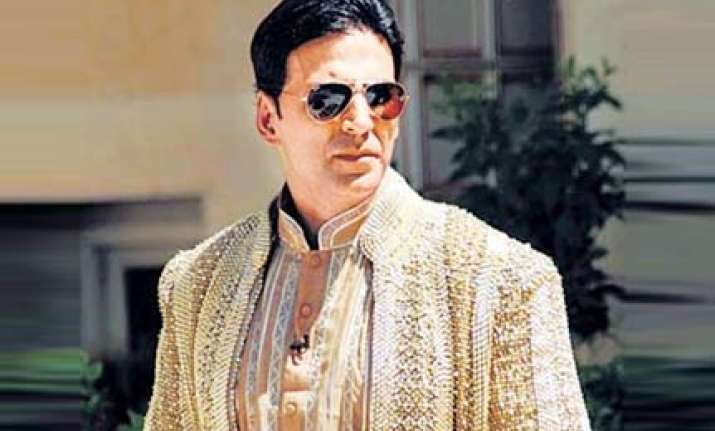 Akshay's wife Twinkle, who doubles up as his stylist on MasterChef India, picked out out a Rs 17-lakh sherwani for his meeting with the ex-ruler of Udaipur Maharana Arvind Singh Mewar,  says a media report.
For a special episode on MasterChef India shot at the Udaipur Palace with ex-ruler Sriji Arvind Singh Mewar, Akshay Kumar wore an expensive sherwani specially handpicked by his wife Twinkle, the report said.  
The report says: Twinkle picked out a unique, diamond-encrusted, pearl-studded, Abu Jaani creation worth Rs. 17 lakhs on hearing that her man would be received by the Maharana himself -- a rare honour. Twinkle (who has styled Akki for some episodes of the show) was very excited and insisted on this special look for Akshay.  
She wanted him to look like a royal as well! She felt the sherwani looked majestic and perfectly suited for the occasion.
As a special task, the contestants have to cook up a royal treat for the king and his courtiers at the Udaipur palace.  
Sriji Arvind Mewar has never been known to welcome strangers in his palace and has even refused several shoot requests. But he made a surprising exception only for Akshay.
He not only allowed the shoot to take place but also welcomed a crew of 150-odd people and mediapersons into the palace.
A part of the palace was opened for Masterchef India where the crew was given permission to move around freely.