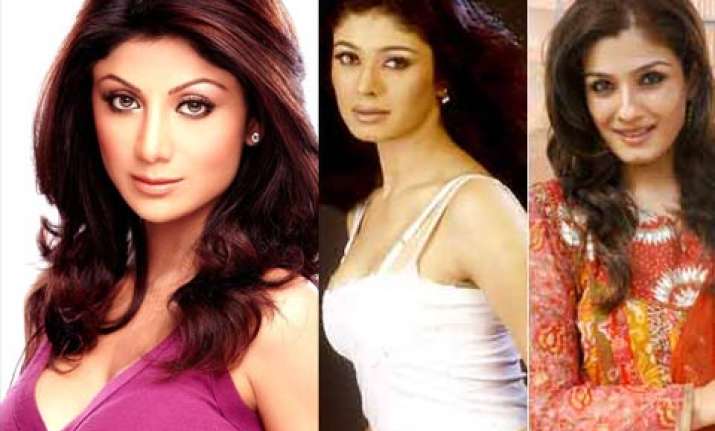 Bollywood styar Akshay Kumar's three former girl friends Shilpa Shetty, Raveena Tandon and Pooja Batra have begun bonding, says a media report.
Not too long ago, it was reported that Shilpa Shetty invited Raveena Tandon Thadani to her card party at her new Juhu residence in Mumbai on November 5 this year.
Raveena said: "I'm in Berlin.I shall be back after two days. Of course, Shilpa had invited me. Why would she not? I attended her wedding too. Shilpa and I never had a fallout. We've been friends for a long time. She and her sister are very good friends with my husband (Anil Thadani) as well."
The report speculates whether Anil Thadani was instrumental in bringing his wife to Shilpa's wedding in November last year.
According to a source close to both Raveena and Shilpa, the two ladies, who never spoke to one another for 10 years, have recently made up.
They spent a lot of time together at the Karva Chauth party hosted by David Dhawan on October 26.
And that's not all. The third lady who completes this circle of newfound camaraderie happens to be Pooja Batra.
One may recall that Pooja's reported relationship with Akshay ended after he reportedly developed interest in Raveena. Is it a mere coincidence then that Shilpa invited Pooja as well to her card party?  
A source close to all three women says, "Their reported history with Akshay, who married Twinkle Khanna eventually, is too old now. They have all made up. Pehle zaroor bahut problem hui thi in teeno ke beech mein, but now all three are married and happy in their respective spaces."
Apparently, Raveena, Pooja and Shilpa are very good friends now. In fact, Raveena is feeling terrible about not attending Shilpa's party.
Raveena says, "My husband and I have been in Europe since the past few weeks, holidaying with our kids. We would have loved to go to her party. And it is sad that we missed it. Shilpa is a super person, nice, kind, good and warm-hearted."
Amidst this warm bonhomie of sorts, one thing is very clear: while the three women have possibly turned confidantes to each other, none of them is keen on patching up with Akki.
Shilpa did not invite him to her card party. At Shilpa's wedding, her family members categorically instructed the band to stop playing songs from Akshay's films.
Pooja too has never openly claimed to bury the hatchet with Akki after reportedly saying, "I had an identity before I met Akshay. I am a former Miss India. I am not his ex; he is my ex."
If that is the case, is this bonding for these women an 'ex-ex' chromosome thing, says the report.