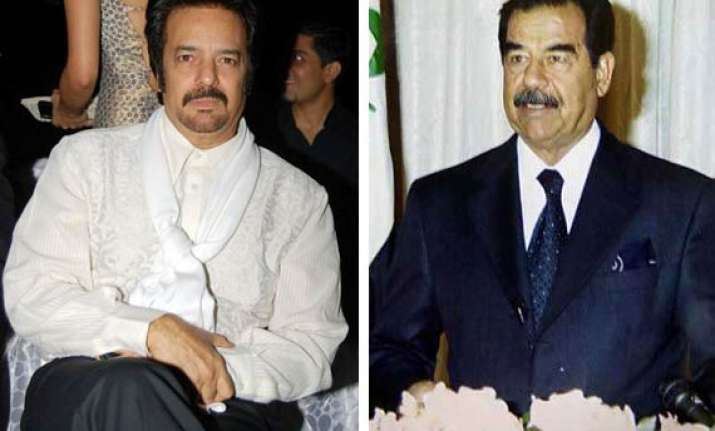 Mumbai: Bollywood actor Akbar Khan will be seen playing the role of Iraq's executed dictator Saddam Hussein, says a media report.
 
Producer-director Suresh Kohli told HT: "When the idea came up to make the film, I got Akbar Khan's photograph and placed it next to Saddam's and every one agreed he would suit the role perfectly. And, thankfully, Akbar was game too. Now we are working out the logistics to kickstart the bilingual (Hindi, English) film."
 
Akbar is excited and says it's a challenge. "It's going to be a special role because the world's opinion of Saddam Hussein is divided into two. For half the world, he was a hero, and for the other half, he was a villain. I'm looking forward to playing this part", says Akbar Khan.
 
The ambitious docu-drama is based on a book Safar Zindagi Ka written by Aziz Burney.
 
"For the character of Saddam Hussein, the only face which comes to mind is that of Akbar Khan, and since he has agreed to play the role, it's going to be exciting. I am very happy with the development", says Aziz Burney.
 
The film has been titled From President to Prisoner and will go on the floors in September. It is expected to be predominantly shot in several real locations including places in Iraq. 
 
Akbar Khan had gifted Kohli this book which provided the graph for "a great human interest story of a great hero and a true nationalist, who has been negatively presented as a dictator."
 
And now, who exactly is Aziz Burney?
 
Aziz Burney is the editor of an Urdu newspaper Roznama Rashtriya Sahara.  He had written a book  titled 'RSS Ka Shadyantra, 26/11" in which he had alleged that some Hindutva activists and intelligence people were behind the 26/11 Mumbai attacks.

Burney had to later tender an apology which was rejected by the RSS on February 1 this year.

"The apology tendered by Aziz Burney is in RSS' view not sufficient ground to withdraw the case registered against him in a Navi Mumbai court",  RSS leader Ram Madhav  had then said.

He said the charges against Burney are "much more serious" as his writings tantamount to treason and, hence, RSS would not accept his apology nor withdraw the case against him.

Burney hit national headlines in December 2010 when he wrote the  book titled 'RSS Ka Shadyantra, 26/11 (RSS conspiracy, 26/11)' and invited Congress leader Digvijay Singh to its launch.

Burney had compiled his articles written on the 26/11 terror strikes and the conspiracy behind them into the book, where he had differed from the investigating agencies' conclusion that no saffron terror activists were involved in the carnage.

It was at this book's launch on December 6 where Singh had said that Mumbai ATS chief Hemant Karkare had called him, hours before he was killed in the terror attacks, to tell him about threats he had received for probing Hindu extremists and their terror links.

Burney, however, tendered an apology on January 29, saying that he would like to "clarify and apologise if he has hurt anyone by the title of his book and is happy to change the title" if that would assuage feelings.

Claiming that he did not want to weaken India's stand in the fight against terror or link RSS to the incident, he urged RSS  to withdraw the case registered against him.

RSS sources said that, notwithstanding Burney's apology, the complainant of the case Vinay Joshi is likely to send a legal notice via his lawyer to  Congress leader Digvijay Singh for "joining the debate with Burney" and making public statements regarding RSS' alleged role in 26/11 conspiracy.