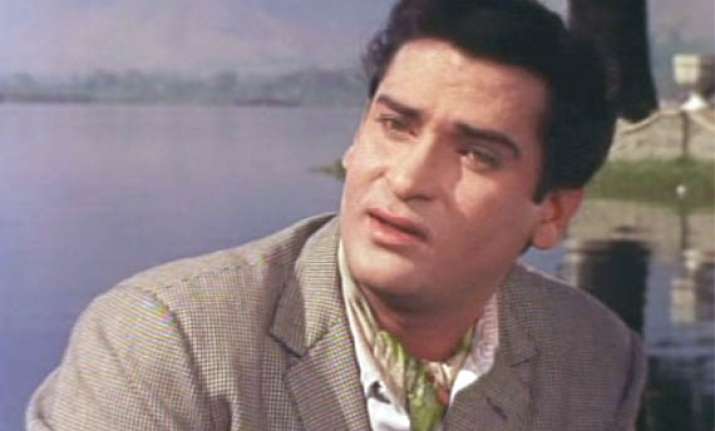 Shammi Kapoor 's first film Jeevan Jyoti was launched on May 12, 1952. But it was Rail Ka Dibba that was released first.
 
Obviously both films flopped and Shammi is candid as he shows us sequences from these and other early films on his computer and laughs, "I was a junior artiste for six long years! A complete flop star! And there was a reason for that."


He goes on, "I came from theatre and I had the mindset that I was given a role and my lines and I had to enact the scenes!" I remember my Jeevan Jyoti director, the famous Mahesh Kaul, being very impressed by my performance because he made me do the same harkatein as my brother Raj Kapoor in his Gopinath and my friend and Raj's brother-in-law Premnath in Naujawan! And so it went on - till by default I worked in Tumsa Nahin Dekha because S.Mukerji believed in me. He literally thrust me on Nasir Husain, the writer-director, when original hero Dev Anand walked out of the film because Ameeta and not some top heroine was to be his co-star."


In this phase Shammi worked with quite a lot of top stars - Madhubala, Nutan, Geeta Bali and newcomer Mala Sinha. "Geeta and I starred in three movies, Coffee House, Coca-Cola and Mohar, but believe me, neither of us has ever seen any of those films!!" he recalls. "But Geeta always believed in me. She was a strong support system for me in those days, especially after we got married in 1955."


Besides Geeta Bali, Shammi Kapoor formed a lot of his lasting relationships in his early days. Jeevan Jyoti was his first film with Mohammad Rafi, later to become his near-permanent voice. Dwarka Divecha, the cameraman, was to have a long association with him, and Shammi was responsible for giving the future Sholay cinematographer his first colour film in Professor in 1962.


The designer break

Tumsa Nahin Dekha's success was no mere stroke of good luck - it was virtually a designer break, says Shammi. "Nasirsaab did not want me and around that time I was shooting for Hum Sab Chor Hain and Nasirsaab was writer for Paying Guest, two films being shot on adjacent sets," says Shammi. "For the former I was to shoot 10 days in a month, be paid Rs 4,000 a month and given 10 gallons of petrol! This was astronomical for those days, especially since I had begun working at Prithvi Theatres for Rs 50 a month. The film was to be completed in five months but was stretched to eight months because of director I.S.Johar, so I got Rs 32,000 and I was very happy! But financier Tolaram Jalan offered me a flat take-it-or-leave-it Rs 20,000 for Tumsa Nahin Dekha and I was upset! I went crying to S.Mukerji, the producer and he slapped me! He roared, 'Forget money! This role is meant for you!'"


But Nasir Husain and Shammi became thick friends during the making of the film. "We spent quality time working on the nuances of my character for 3-4 months! We threshed out my dresses, my looks that were to be like a badmash ladka and the locations. It all paid off. O.P.Nayyar and Sahir had already penned such an infectious title-song that I went mad when I heard it, swigged four or five pegs and danced and rehearsed like mad on my Chembur flat's terrace, convinced that it would be a big hit. But Sahir walked out of the film when Dev Anand did so and Majrooh Sultanpuri came in with equal brilliance! And so when Tumsa Nahin Dekha released, I became the Rebel Star, the man who broke into the hallowed top league of Raj Kapoor, Dev Anand and Dilip Kumar.
 
Adds Shammi, "Nasirsaab remained one of my closest friends. When he was making Phir Wohi Dil Laya Hoon, he would call me after my shoot to give dance movements to his hero Joy Mukerji! I worked last with him in Teesri Manzil, but as in the first case, it was because Dev Anand turned it down."

Yahoo and more.

After Tumsa Nahin Dekha, Shammi never looked back. Yes, there were some flops, but the hits stood out - films like Dil Deke Dekho, Ujala, Singapore, Dil Tera Diwana and China Town. But Shammi's biggest and career-defining hit then was the 1961 Junglee, with which his association with buddies Shankar-Jaikishan consolidated. The biggest hit in the film, the song Yahoo! Chahe koi mujhe junglee kahe, introduced India to that magic word three decades before its Internet connotation. Eerily enough, it proved to be prophetic as Shammi was not only among the earliest users of the 'Net in India but also the president of the Internet Users' Club of India in the early '90s, set up key organisations like the Ethical Hackers' Association.

After Junglee the rain of hits continued - through Dil Tera Diwana, Professor, Kashmir Ki Kali, Rajkumar, Janwar, An Evening In Paris, Bramhachari, Tumse Accha Kaun Hai, Sacchai, Andaz and Jaane Anjaane. Like nephew Rishi Kapoor and Salman Khan later, Shammi had the reputation of having the maximum number of heroines making debuts opposite him. The standout names, however, remained Asha Parekh in Dil Deke Dekho, Sharmila Tagore in Kashmir Ki Kali and Saira Banu in Junglee. "When Saira later played my daughter in the 1975 Zameer, Tabassum asked me how I felt on her popular television show Phool Khile Hain Gulshan Gulshan," he remembers with amusement. "I told her that just as she was not really my daughter in Zameer, she had not been my mashooqa when we did Junglee. I told her that's what actors and acting were all about!"

The Kapoors and Kapoor
 
"I was lucky to work in four films with my father Prithviraj - in Janwar, Pyaar Kiya To Darna Kya and Rajkumar as my father and the 1954 Ehsaan as was my elder brother! Of course we had worked together in his plays at Prithvi Theatre," says Shammi. "As for Raj Kapoor, I revered him for his acting and his movies. I went bonkers over Awara, Jis Desh Mein Ganga Behti Hai, Shree 420 and Sangam and the song Hum bhi hain tum bhi ho from Jis Desh... gave me a complex for Raj both as actor and filmmaker! Personally, we were very big drinking friends and eating friends - the Kapoors in this respect never evolved with age and maturity - we continued to make merry right till we turned 60 and more!"
 
He adds that Shashi Kapoor and he are in constant contact, though Shashi's become a recluse. "Coming to my son Mickey (Aditya), he did not heed his genetic traits and was determined to do other things even though he had assisted Raj Kapoor on three films in the '70s. He has finally decided to turn actor now when he is 52, toned his body, lost weight and is really looking so good and fit! By the way, this trait of his is hereditary - I too did not want to turn actor. I wanted to become an aeronautical engineer and joined the Science stream - I was the only one in my family to join college - that too Ruia, one of Mumbai's best. I would attend practicals at Ruia, but spend most of my time at Elphinstone and had an account at the St.Xavier's canteen!! That was because Ruia was close to my house, but most of my friends from New Era High School were in the two city colleges! I would represent my college in Table-Tennis, something that I also did in school."
 
About friends in filmdom he says, "I was very friendly with Ajit, Prem Chopra, Rajendranath and others and on very cordial terms with Dilip Kumar, Dev Anand and everyone else. Among filmmakers I was also close to Hari Valia, F.C.Mehra, Shakti Samanta and others."

The rebel's heroines

Which heroines was Shammi closest to right up to Hema Malini (Andaz) and Leena Chandavarkar (Jaane Anjaane, Preetam), his youngest romantic co-stars? Says Shammi mischievously, "That depends on which way you mean 'close'!"

He goes on, "But we were all like a family in those days. For example, Madhubala would and pick me up from Chembur even though she stayed in Bandra 10 kilometres away and we would move together to a Madh Island shoot that meant going back through Bandra and then 20 kilometres further! Her mother would cook exquisite mutton curry and I would insist that she bring it on location - and we did three films, Naqab, Rail Ka Dibba and Boy Friend! Contrary to popular notion, the heroines of those days would drive limousines like Buick and Cadillac themselves to location, and we would even race each other on the roads!"

He adds, "I was friends with Nutan since childhood because of my father's friendship with her mother Shobhana Samarth. I remembering escorting Nutan - she was not yet 18 then - to the premiere of her adult film Nagina as heroine and she was actually not allowed in as she was underage!"

The musical associates

"I have spoken at length to Screen about Shankar-Jaikishan earlier. I got along very well with O.P.Nayyar too. Kalyanjibhai of Kalyanji-Anandji and I had a warm personal relationship and his sitting room was a frequent haunt for Raj and me. Laxmikant-Pyarelal were the natural successors to S-J, but they had turned down my Sachaai. They later were to work with me when I was to direct Aghaaz Aur Anjaam but the film was never made. R.D.Burman did a brilliant job in Teesri Manzil, but I was not happy with his work in the two films I directed, Manoranjan and Bundalbaaz - I really missed Jai in those films! Ravi, Usha Khanna and Madan Mohan in Laila Majnu and even Ghulam Mohammed in my early films were among others who gave brilliant music for me. Naushadsaab had me removed from Shabab as I was struggling then, so we never worked together! As for Rafi, I will simply need another meeting to talk about him!"

The Chopra connection

"I wanted to go and pay my last respects to (B.R.)Choprasaab, but my physical condition prevented me. Though I had the privilege of working with him in Zameer, I must say that he was pretty persistent in his earlier efforts to work with me," says Shammi reminiscently.
"All of us top heroes then had our highs by way of egos and I turned down Dhool Ka Phool only because he came to me at the last moment when his hero had ditched him and even the sets were ready! Rajendra Kumar did that film and after I said something that angered my College Girl director T. Prakash Rao, he too had me replaced by Rajendra Kumar in Sasural, a film that was to co-star me with Shashi,whose role was done by Mehmood!"

And Shammi laughs as he says, "Then Choprasaab offered me Gumrah in Ashok Kumar's role and I asked him whether I looked like a husband any wife would want to leave for someone else! And Waqt, which Choprasaab dreamt of making with my father and all three of us brothers never happened because Raj told him that if we ever came together it would be for an RK film."
 
The metamorphosis

The Kapoor website elaborates on Shammi Kapoor's tendency for being accident-prone all through (which the actor attributes to being a Libran!), with an elaborate account of some 20-odd minor and major mishaps.
 

The detailing holds significance as it was because of such repeated injuries, the medication and long recuperation periods needed for them as well as the depression Shammi went through after Geeta Bali's untimely death that he began to put on weight and finally switched to character roles with his directorial debut Manoranjan.
But with marriage to Neila Devi in 1969, his life came back on track and he acted for three more decades as a character artiste till the 2004 Sandwich. His best-known character roles were Parvarish, Armaan, Betaab, Prem Rog, Vidhaata, Ek Jaan Hain Hum, Hero, Ajooba and Chamatkar. In Kareeb, he shocked his fans by playing a con-man. "I did it precisely because no one expected me to do such a role!" he smiles.