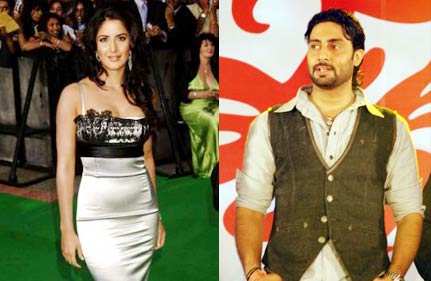 The two actors, Abhishek Bachchan and Katrina Kaif hardly know each other, and yet they will do three films back-to-back later this year, says a media report.
Abhishek and Katrina will now be spending most of their working hours together. The two have signed three films together and that too in a row. This would mean that Abhishek and Katrina, who hardly know one another, would be spending the next eight to ten months together.
Besides Tarun Mansukhani's Dostana 2 and Abbas-Mustan's Italian Job, the duo would be working on one of Vipul Shah's next films, which will be a romantic-comedy.  
Work on this film will start in January. Katrina and Abhishek begin work on Dostana 2 as soon as Katrina returns in the first week of August from the shooting of Zindagi Na Milegi Dobara. They will be shooting a song together in Mumbai, followed by a long stint in London.
The only time Abhishek and Katrina Kaif have w o r k e d together in a film was in Ram Gopal Va r m a 's Sarkar, five years ago.  
"But that was so long ago!" says Katrina, "We were both different persons and different actors back then. So much has changed. I hardly know Abhishek that well. Now that we'll be doing so much work together I guess the process of getting to know one another will happen automatically. The little that I know of him, Abhishek is great fun."