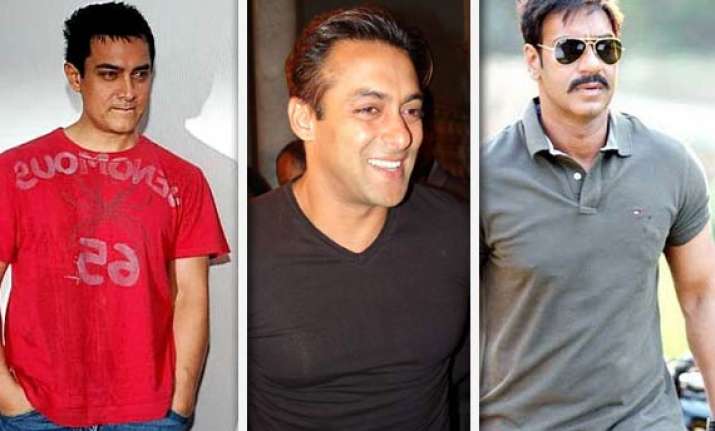 Mumbai, Aug 7: Aamir Khan, Salman Khan and Ajay Devgn are the only Bollywood actors in the exclusive billion-dollar club.

Their films 3 Idiots, Ghajini, Ready, Dabangg and Golmaal 3 are the only ones to have done business of over Rs 100 crore in the domestic market, says a media report.

In fact, Aamir's 3 Idiots is the highest Bollywood earner of all time. Salman's Dabangg and Ready are in the number 2 and 3 slot respectively.

Ajay is next with Golmaal 3,and his Singham continues to roar,showing signs of setting second and third week records.

Another trade analyst Vajir Singh says, "Going by the extraordinary opening at single screens and a good opening at multiplexes, Singham will cross the 100-crore mark soon".

Says Devgn, "It feels great to have two films on the list of the biggest earners in Hindi cinema... that too through Golmaal 3 and Singham! Its unreal much more than what we had hoped for. The flipside is that with great success comes a lot of pressure about your next film. Also,the success quotient changes every Friday. Today,it is my day; tomorrow it will be somebody else's. After 20 years of success and failure, it doesn't change or excite me much."

"Now I just try and make the audience happy. I am sure Salman and Aamir feel the same way."

Aamir, who has two superhit films (Ghajini and 3 Idiots),adds,  "While I am very happy with the monetary success of both films ,I have to confess that merely monetary success does not excite me.

"I think that films like Taare Zameen Par, Lagaan, Rang De Basanti, Dhobi Ghat ,etc., enrich our emotions, and have the ability to create a very positive, inspirational, happy and moving impact on us.

"What excites me is to be part of this life-changing experience for people and society. I thank my directors and writers for that."

Dabangg producer Arbaaz Khan says, "Salman enjoyed doing the films and the right music, action, characters and script worked for the films. But the business module is changing today along with a growing number of prints, theatres and multiplexes. What is a benchmark today will change with the economics of the business."