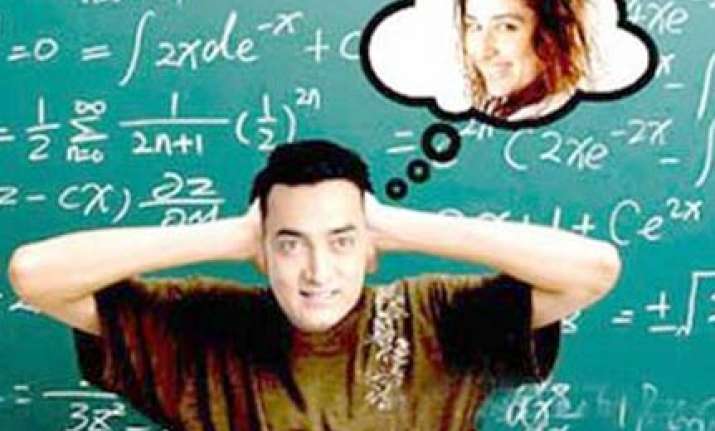 Mumbai Raju Hirani, director of '3 Idiots' says his lead actor Aamir Khan was worried to be a part of the film because he did not fit the age group. 
"I wanted four 20-year-olds for the main characters and spent at least six months hunting for the new talent. 
I required competent actors because the roles were intense where the comic and emotional talents would be put to test," Hirani said in an interview.
But the director, best known for his cult series 'Munnabhai', says he could not find the perfect casting for his film and in the end decided to settle for competent and established actors like Aamir Khan, R Madhavan and Sharman Joshi.
"The competent actors had to look young so we got the best -- Aamir," the director says. 
But Aamir was initially apprehensive to play a 20 something at the age of 44. The actor, however, decided to ensure that he looks much younger than what he looked in 'Rang de Basanti' or 'Dil Chahta Hai.'
"He has taken a huge effort to look his character and looks much younger than what he was five years ago," Hirani says. 
Hirani also denied that Aamir interfered while shooting the film, which is inspired by Chetan Bhagat's IIT story 'Five Point Someone'. 
"The perception that Aamir interferes on the sets is a complete myth. Dedication cannot be called interference. Even if he has a suggestion, he will tell you quietly and say it is your (director's) call. He is the most non-interfering actor I have ever met," he adds. 
Actress Kareena Kapoor plays Aamir Khan's love interest in the movie, which is slated to release on December 25. 
Hirani is also excited about introducing newcomer Omi, his latest find out from Los Angeles. 
"I required an Indian born actor who does not know Hindi. Only after you see the film, you will realise that Omi is a good find," the director says. 
Hirani, who has worked with Sanjay Dutt in his previous two films 'Lage Raho Munnabhai' and 'Munnabhai MBBS,' said Sanjay never rehearses or discusses his scenes. 
"He has some other inherent strengths. Sanjay is an impromptu actor. I would destroy his spontaneity if I rehearse with him," the director says. 
He will be returning with Sanjay Dutt and Arshad Warsi for 'Munnabhai Chale Amerika', the third film in the 'Munnabhai'