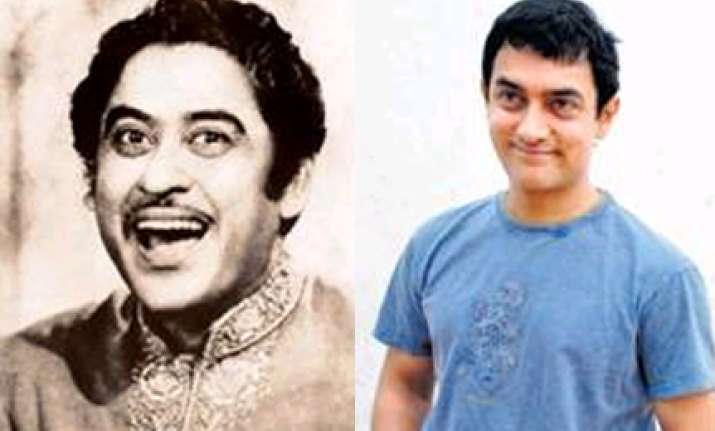 Bollywood star Aamir Khan will play the role of Kishore Kumar in Shashanka Ghosh's biopic on the legendary playback singer. 
The film script has been recast to give it the look of a romance between Kushire Kumar and Madhubala, whom he eventually married. Madhubala, the most beautiful actress in Bollywood at that time, passed away as she was suffering from hole in her heart, which was incurable in those days. 
Vidya Balan is being considered to play Madhubala in the film. 
Director Shashanka Ghosh is known for his film Quick Gun Murugun.  Ghosh told Mid Day:  "Now it's no more a Kishore Kumar biopic. It's now a love story between Kishore Kumar and Madhubala. When I went to Aamir with the original draft of the script he asked, 'Mudda kya hai' (What's the point')' I understood his point. The biopic went into too many directions trying to capture the multi-facted singer- composer-actor, etc. I reworked it . And focus is now on Kishore Kumar's love for Madhubala," 
Ghosh says, "It's a heartbreaking love story of this zany genius and one of the most beautiful women on this earth who couldn't be a wife to her devoted husband because she had a hole in her heart. She was not allowed to make love or do any of the things that normal couples do."
The passion, frustrations, rage, bitterness and tenderness will all be part of this Rs 80 crore film which will start with Kishore Kumar as a teen. 
"No prosthetics, and certainly not another actor playing Kishore at 19. It'll be Aamir all the way," says Ghosh. "It won't be difficult to transform Vidya into Madhubala since she's the right age. But to recreate the Mumbai of the 1950s won't be easy. I want to do the entire Linking Road in the '50s when there was just one bungalow on the entire road and that belonged to S D Burman".
Ghosh says: "I want to show how the profound frustrations of his love for Madhubala affected Kishore Kumar's life and behaviour outside his home."
Kishore's son Amit Kumar says: "I have no idea of this project. I believe Shoojit Sircar is making a film on my father for UTV. My family, the legal heirs of Kishore Kumar are Leenaji, me and my brother Sumit. And UTV approached us. That someone else is doing it, is news to me. Kisiko bhi banaane dijiye. Achchi baat hai. But it isn't easy to make a film on Kishore Kumar. No matter how great the actor it'd be really difficult to play my father. I hope it'll be a good film. Because it will either be a very good or a very bad film."