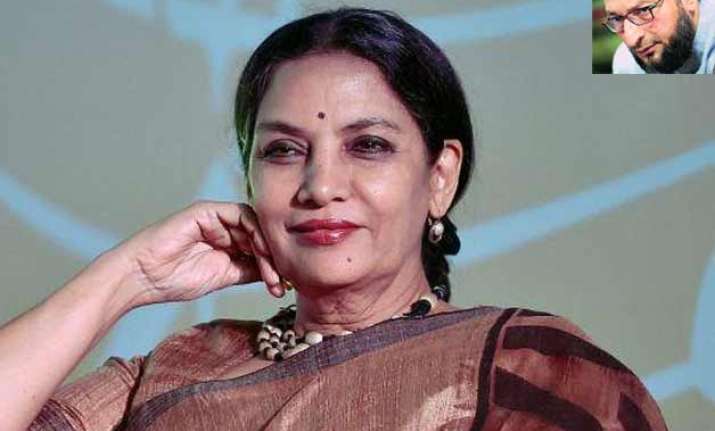 New Delhi: Amid nationwide outrage over AIMIM (All India Majlis-e-Ittehadul Muslimeen) leader Asaduddin Owaisi's controversial remark that he would not say 'Bharat mata ki jai' even if a knife is put to his throat,now veteran actor Shabana Azmi has taken a swipe at the Hyderabad MP.
Known for not mincing her words, the Neerja actor said, "I would like to ask Owaisi sahab, would he be ok saying 'Bharat ammi ki jai' instead of Bharat mata, if he has got a problem with 'mata' and not 'bharat'."
She was speaking at a media event in the capital today, Azmi was also accompanied by her husband and noted lyricist Javed Akhtar.
Targetting Owaisi, AKhtar also said that AIMIM leader's speech has only created disturbance in the country.
Akhtar also said that he is ready to contest elections against Owaisi from anywhere except Hyderabad, where 50% of the population is Hindu and the rest 50% Muslim.
In his farewell speech at Rajya Sabha, Akhtar had slammed Owaisi for polarising the country.
"He (Owaisi) said he will not say `Bharat mata ki jai` as the Constitution does not require him to say so. The Constitution even does not ask him to wear sherwani (dress) and topi (cap)... I don't care to know whether saying 'Bharat mata ki jai' is my duty or not, it is my right," Akhtar said amid thundering applause in the Rajya Sabha.