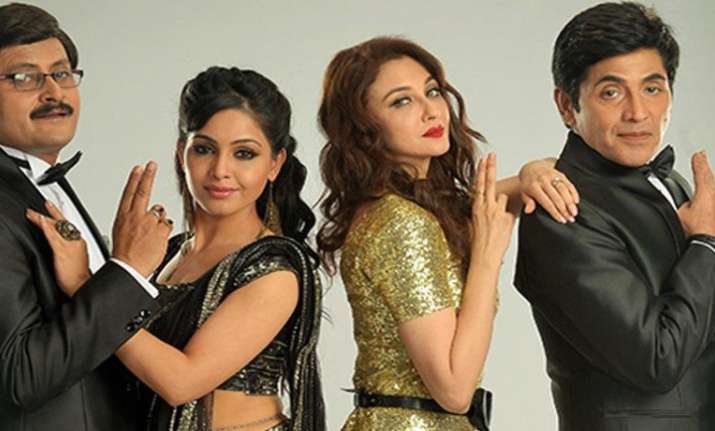 Are you a 'Bhabi Ji Ghar Par Hain' fan? Then, get ready to see your favourite 'Bhabhijis' and the utterly funny Vibhu and Tiwariji in ultra-modern avatars. The 'Bhabi Ji Ghar Par Hain' stars set the stage on fire as they grooved to Raftaar and Anmol Malik's song.
The singer duo has created a peppy and catchy song for the super hit TV show.
In the video, Saumya Tandon is seen wearing a shimmery golden dress and looked hot and sizzling. What really catches the eye is Shubhangi Atre, who has embraced a western look for the song.
Aashif Sheikh and Rohitash Gaud make quite the gentleman in tuxedos
The song which was shared on Facebook by &TV, showcases not only the cast of the show but also rapper Raftaar grooving to the tune. Here's the video.
The song has Raftaar weave his magic with words in a rap verse, while Anmol takes the lead on the main verse and chorus. 
The lyrics of the song have been particularly crafted to suit the tempo of the popular show. This is the first time that Raftaar and Anmol have lent their voice to a television series.
Speaking about his new experience in TV Raftaar said, "This is a really new experience for me and I thoroughly enjoyed it. Bhabiji Ghar Par Hain is one of the comedy shows that I regularly watch online as I am constantly traveling and I love the characters in it".
"People think I am a serious rapper, but the Bhabhiji song will showcase a fun side of me – something that I have thoroughly enjoyed working on. I am looking forward to people's reaction to this song," Raftaar added.
"Bhabhiji Ghar Par Hain" is about the lives of two neighbours, who love their own wives, but don't miss a chance to woo each other's wives either.