Follow us on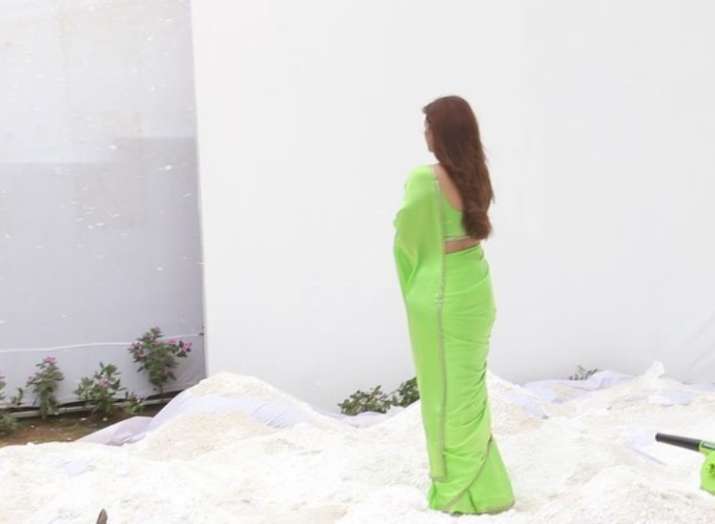 Parineeti Chopra recently shared a video where she has drapped a beautiful Bright Green saree, just like the Yashraj Heroine. Bollywood has witnessed the signature look of the Yash Raj banner heroines. Gracing the look in plain saree, with minimal or completely no embroidery at all, the heroines look breathtaking. 
Also, the set up is usually a cold place preferably Switzerland with snowfall and a romantic number playing in the background. Well, all this reminds us of the typical Yash Raj heroine. Parineeti Chopra is seen reliving the moment and carrying almost the same look.
She captions her video saying, "Yashraj heroine tutorial :— Fake switzerland in Madh Island. Fake snow in 34 degrees heat. Fake wind. One mohabbatein song. But one REAL FILMY girl! Couldn't stop laughing after this shot"
She is seen having fun at the shoot where she is faking to be a Yash Raj heroine. In fact, the snow, location and everything else about the video is fake. Parineeti is also seen dancing on Humko humise chura lo from Mohabbatein. The song is originally picturized on Shah Rukh Khan and Aishwarya Rai.
Parineeti Chopra was last seen in Kesari, starring opposite Akshay Kumar. The movie did wonders at the box office and claimed to be one of the blockbuster movies. She has been in news lately for sharing pictures with sister Priyanka Chopra. The Chopra sisters have called it a reunion for their brother's wedding.