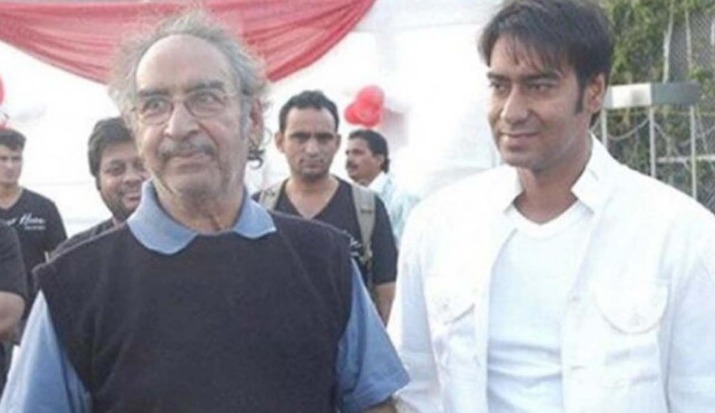 Bollywood's veteran action director Veeru Devgan, father of actor Ajay Devgn, died here on Monday, family sources said. He was 85.
Veeru Devgan breathed his last on Monday afternoon at a hospital here due to age-related issues, according to a source. Apart from directing action sequences, he had directed the 1999 film "Hindustan Ki Kasam", starring Ajay and megastar Amitabh Bachchan. The funeral will be held here at the Vile Parle West Crematorium on Monday evening.
He has choreographed fight and action scenes in more than 80 films in Bollywood. Movies like Mr. India, Phool Aur Kaante, Shahenshah, Himmatwala, Pukar etc. are some of his famous movies in which he has choreographed stunts and directed the action scenes. 
Here is the list of famous actions and stunts choreographed by Veeru Devgan
Haqeeqat (1995)
Mr. India (1987)
Dilwale (1994)
Benaam Badsha (1991)
Phool Aur Kaante (1991)
Shahenshah (1988)
Ajay Devgn and Veeru Devgan exclusive interview on how they perform stunts
Veeru Devgan wasn't keeping well for some time as informed by the reports. He complained of shortness of breath and was immediately admitted to Surya Hospital where he took his last breath due to the cardiac arrest. (Also read; India's finest action choreographer and doting father, Veeru Devgan passes away
 His remarkable contribution to make Indian cinema excel in action scenes will be cherished all through the age. He has given a definition to the fight and action scenes with his great talent as well as hard work. We all share a deep loss with his demise and fans from all over the world are expressing their grief. His funeral was held today at Vile Parle West Crematorium at 6:00 pm, it was attended by Bollywood industry veterans and stars. 
Also read: Rest in Peace Veeru Devgan: Remembering action and stunt director's special moments with son Ajay Devgn (Pics)