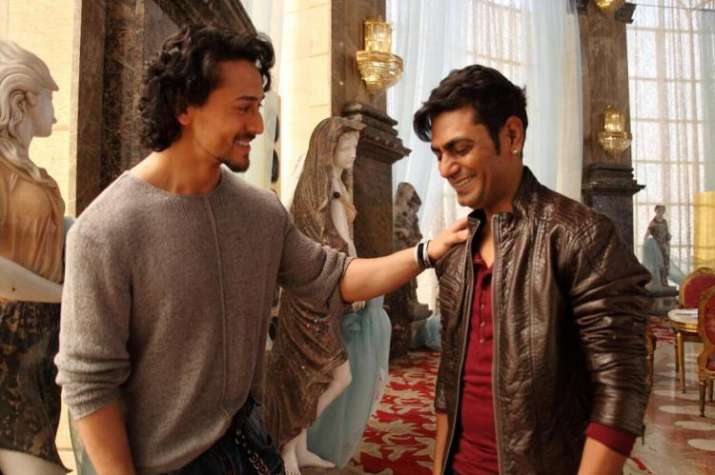 If actor Nawazuddin has learnt some 'cool' dance moves from Tiger in the film Munna Michael, the Heropanti actor took away not just some invaluable acting tips from the latter but also a huge lesson in humility.
"He's come up the hard way. He didn't have anyone to guide him in Bollywood. He found his place on his own. He started with cameo appearances and today, when he's considered one of the best we have, he continues to be so down-to-earth and normal,'' he said.
"In spite of so much ovation, he's so down-to-earth. You have to know him personally to know how humble Nawaz is," said Tiger.
Apparently Nawaz, a huge fan of Tiger's father Jackie Shroff, has wangled a promise of meeting Jackie from Tiger after the release of "Munna Michael".
Tiger sees a lot of similarity between his father and Nawaz. "They didn't change with success at all. They remained down-to-earth even after stardom. And yes, they are not conventional dancers," he said. In fact Tiger had a ball dancing with Nawaz. "He did his own thing, and dazzled us all. I wouldn't call him a non-dancer. He moves to his own rhythm," he said.
Also Read: I am a huge fan of Shah Rukh Khan, says Tiger Shroff
Tiger plays a Michael Jackson fan in Munna Michael. "We even shot a whole song and dance dedicated to Michael Jackson. It was dream come true for me," said Tiger, adding that the film is not only about dancing.
"It's not a dance film, though there's a lot of dancing in the film. There is a lot more to it than just dancing. The chemistry between Nawaz and me will be something unique. We seem like very different human beings but we are actually similar," says Tiger, excited to be doing his first film on male bonding.
For more entertainment updates follow our Facebook page
(With IANS Inputs)