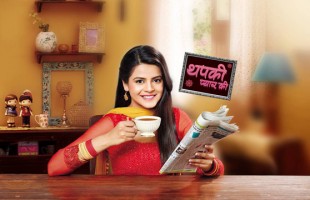 In the recent episode of 'Thapki Pyaar Ki', it was shown that Thapki, Bihaan and their family have decided to visit the temple. Now, there will be a major twist in the plot when Bani is kidnapped from the temple. 
While they are returning from the temple, Bani gets lost in the crowd and is kidnapped by the Shekhawat family. 
This family consists of Ammaji, her two sons Monty and Prince and a daughter-in-law named Komal who is married to Monty. 
They take Bani away while Thapki and Bihaan get worried and start searching for her. Meanwhile, Ammaji forcefully gets Bani engaged to her younger son Prince. 
When Thapki and Bihaan find out about Bani's whereabouts, and question Ammaji about this incident, Ammaji reveals that it was Thapki who had fixed Bani's marriage with Prince. 
Well Bihaan surely has a lot at stake now and needs to resolve the situation as soon as possible. Will the doting father be able to save his daughter Bani