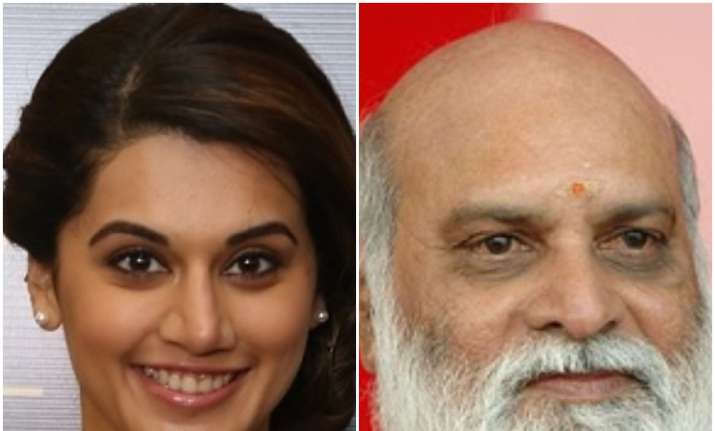 When Taapsee Pannu recently spoke about Telugu director K Raghavendra Rao's 'navel obsession', the actress may have not foreseen the consequences. Now, she is being mercilessly trolled for her candid talk against the filmmaker, who launched her in the film industry. Taapse began her film career in 2010 with Jhummandi Naadam, helmed by Raghavendra Rao. 
Recently, a video featuring Taapsee Pannu was uploaded by stand-up comedy group East India Comedy on their YouTube channel. In the clip, when Taapsee was asked about her experience of working in the South, she said, "In the South, they think I can only pull off glamorous roles. When they saw 'Pink' and '(Naam) Shabana', they were like, oh, she can act."
Further, the actress said, "If I knew about this in my research before I'd gone to the South I would've worked on my navel. I clearly didn't. The first day, they started with a song itself. And they are shooting a song which is the obsession over midriff. The director who launched me is known to have the Midas touch in terms of launching actresses. He has launched Sridevi, Jayasudha at that point. So it was his 105th movie with me".
Taking a dig at the popular filmmaker, Taapsee said, "He's known to show the sensuality of the heroine by showing the midriff and throwing fruits and flowers at it. I was prepared for it... In fact, I saw lots of videos... But, when my turn came, maybe because my midriff wasn't quite ready, they threw a coconut on me!" This made many people in the audience roar with laughter. Taapsee further remarked, "I don't know what is so sensuous about a coconut hitting my midriff!"
The candid revelation aroused tons of laughter but at the same time, several people were shocked and hurt by Taapsee's comments on Raghavendra Rao. Taking to micro-blogging site Twitter, a number of people slammed the 29-year-old actress to the fullest.
Before and After #ShameonyouTaapsee
Acting lo @taapsee at her best 🙏 https://t.co/URaRSc9tib

— త్రివిక్రమ్ (@Harinani_) July 9, 2017
Dear @taapsee if some one can make sridevis and jayapradas but not you, you can understand where mistake is

— 9394022222 JSP membership (@nagsforfun1) July 8, 2017
Saw video of @taapsee making fun of a Tollywood director.If she was such a revolutionary - y not reject that offer then?backstabbing is bad.

— Prashanth Rangaswamy (@itisprashanth) July 9, 2017
On the work front, Taapsee will be seen next in Judwaa 2, which is the sequel of 1997 film Judwaa that originally featured superstar Salman Khan. The Bajrangi Bhaijaan actor will be seen playing a cameo in the film. Directed by David Dhawan, the film is set to release on September 29.
For more entertainment stories, click here