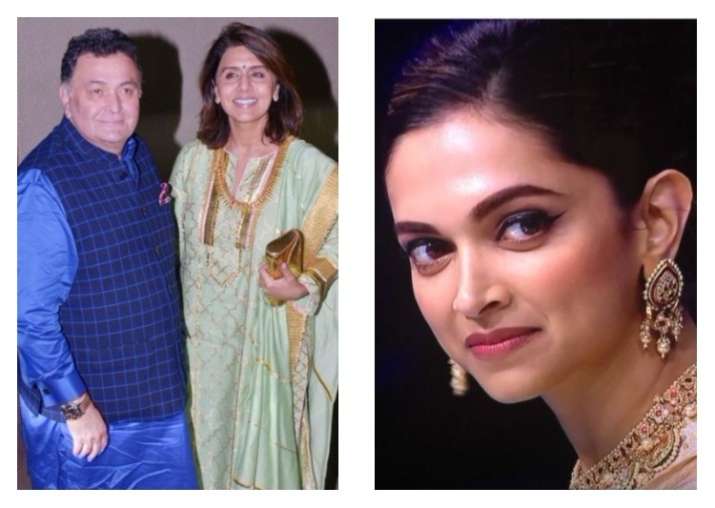 Deepika Padukone is getting praises for her role in Padmaavat from the entire film fraternity. Despite threats from the fringe outfits, the film has managed to garner attention and viewers in large numbers. 
Bhansali's magnum opus has left everyone in awe of his film and the cast's performance including Deepika Padukone, Ranveer Singh and Shahid Kapoor. Not just the viewers, but Bollywood celebrities too, are all praises for the film. 
One of them was the iconic '70s love couple Neetu Singh and Rishi Kapoor. They congratulated Bollywood actress Deepika Padukone with flowers and a note, "Excellent work!!! So very proud of you. Love Neetu & Rishi Kapoor." 
While the Kapoor family extended an olive branch to Deepika, Rishi made a guffaw. Rishi Kapoor posted an insensitive joke about Ranveer Singh and Padmaavat and it seems like his wife wants to make amends. Neetu Singh and Rishi Kapoor sent Deepika a bouquet of flowers and congratulated her on her ground-breaking role in the film. 
Deepika got so overwhelmed seeing this token of love coming from Neetu and Rishi that she posted the pic on Instagram and captioned it saying, "it was so lovely seeing both of you yesterday…Thank You for all the love & appreciation."
Directed by Sanjay Leela Bhansali, Padmaavat was the highly awaited film in 2017. Both Ranveer and Shahid, too, are getting praises for their performances as Allaudin Khilji and Maharawal Ratan Singh. The film has so far minted Rs. 5 crore with just paid previews and is also off to a rock-solid start overseas.
Various other celebrities congratulated and appreciated the star-cast of the Sanjay Leela Bansali-directorial. 
Just witnessed HISTORY. Felt like I was right there. Every second of watching this epicness made me a bigger fan of #SanjayLeelaBhansali the GOD of Indian cinema. #Padmavat

— Neil Nitin Mukesh (@NeilNMukesh) January 24, 2018
Sanjay sir you have nailed it once again with the world you've given us! Can't wait for your next magical piece already! Running out of big beautiful words to describe your films ☺️🙈 Thank you for this experience :) ✨✨✨✨ #SanjayLeelaBhansali

— Alia Bhatt (@aliaa08) January 25, 2018
Saw Padmavat' .What an Epic film with Stellar performances by @RanveerOfficial @shahidkapoor n @deepikapadukone who is dignity personified

— SHILPA SHETTY KUNDRA (@TheShilpaShetty) January 26, 2018
What a film🙌🏼 Awestruck! #Padmaavat is a masterpiece! Sanjay Sirs passion shows in every single frame. No one can make it like he has! So much respect for him🙏🏼

— Kiara Advani (@Advani_Kiara) January 25, 2018
Just saw #Padmavat and it was amazing, a treat to watch. #Khalibali was wild ,too good. Congratulations mr #SanjayLeelaBansali #RanveerSingh #DeepikaPadukone #ShahidKapoor and the whole team of Padmavat.

— Naved Jafri (@NavedJafri_BOO) January 25, 2018
Could not take my eyes off u @deepikapadukone ..Not because of ur beauty (which is beyond ethereal) but cos of the dignity, strength, honour with which u have played Rani Padmavati. U've been the epitome of grace both on & off screen & I wish u all the love & accocolades😘❤️

— Sophie #AjjNaiyoSawna (@Sophie_Choudry) January 25, 2018
Just saw #padmavat Breathtaking!!! Mesmerizing! Forget ban, it should be tax free. Take a bow #SanjayLeelaBansali @deepikapadukone @RanveerOfficial @shahidkapoor pic.twitter.com/por2LQvTix

— Samir Soni (@samirsoni123) January 25, 2018
How can you not love @RanveerOfficial ! For giving his all to the part, for bringing in ferocious energy & nuance. For upping his game with every role & not being afraid to bare his soul. Stunning as Khilji!! #Padmaavat

— Nakuul Mehta (@NakuulMehta) January 25, 2018