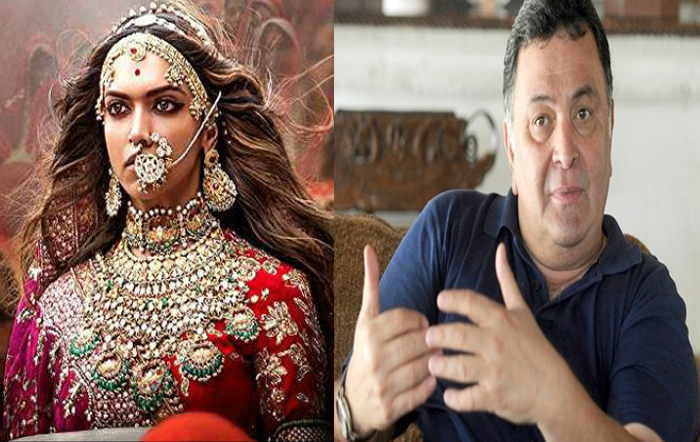 Padmaavat the historical saga of Sanjay Leela Bhansali starring Deepika Padukone, Ranveer Singh and Shahid Kapoor finally got released after days of protest. Karni Sena was protesting against Bhansali's film Padmaavat and wanted it to be banned from release nationwide. 
But during the ongoing controversy of the film, actor Rishi Kapoor took a jibe at Padmaavat through a tweet. Taking a dig at Padmaavat controversy, Rishi tweeted, ''Ranveer has announced that if Karni Sena tries to stop the release of Padmaavat, he will do Johar." 
With the tweet he also shared a picture of Ranveer with Karan. But the actor was mocked badly by Twitterati. Soon realizing his mistake Rishi deleted his tweet. The outspoken actor Rishi, earlier in an interview with a leading daily said that he is free to express whatever he wishes. He was quoted saying, ''Main woh karunga, woh likhunga jo mera mann chahega (I will do and say and write whatever my heart tells me to do). I have the freedom of expression. This is a democracy, and I can say what I want to and what I feel."
He also said, "As long as I am not offending someone personally, or I am not agitating against anything that's a delicate matter, I don't think that anyone should have a problem with what I say."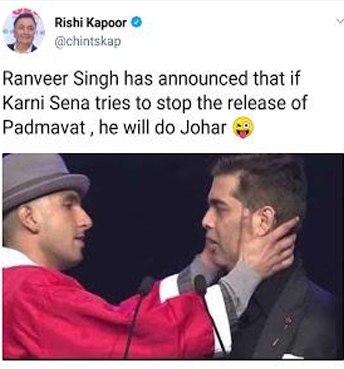 Recently, a news also surfaced that Rishi has blocked as many as 5,000 people on Twitter. Clarifying it he said, "Isne koi gadbad ki, ya meri family ke bare main kuch kaha ya kuch bhi galat cheez likhi (if anyone dares to take a dig at my family members or write anything mean on my Twitter timeline), I will block him/her. I don't want this kind of bad influence on my Twitter timeline. I believe that one bad fish spoils the other lot as well, and since I don't want this to go on, it's easier for me to block that person, and then they don't get to talk to me."