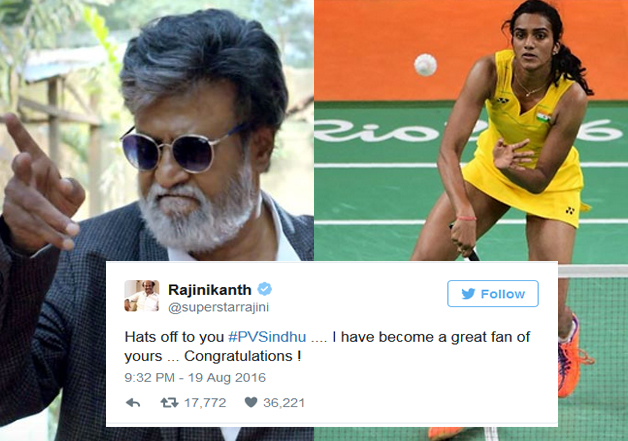 In a country obsessed with cricket, shuttler PV Sindhu managed to do the impossible. The 21 year old star badminton player forced everyone to switch on their televisions and tune in to the final match of women's badminton singles in the Rio Olympics. In a nail biting match, Sindhu settled for silver medal competing with Spain's Carolina Marin.
Sindhu's 'silver lining' in a rather gloomy participation of India at the Rio Olympics made every Indian proud of her. Post her terrific performance she was showered with love from every nook and corner of India. All the voices in unison said the same thing, that they are proud of the Hyderabad girl.
By becoming the youngest Indian to get a medal in Olympics, PV Sindhu became the apple of many eyes. She made the likes of superstar Rajinikanth, Amitabh Bachchan, Akshay Kumar and others are fans.
Superstar Rajinikanth congratulated Sindhu in a tweet and the tweet got over 17,000 retweeets in few hours. Akshay Kumar, earlier this morning shared a picture of him and the shuttler, saying he always knew she was an achiever.
Check out their tweets here:
Hats off to you #PVSindhu .... I have become a great fan of yours ... Congratulations !

— Rajinikanth (@rajinikanth) August 19, 2016
Always knew u were an achiever.U managed to convert a cricket obsessed nation to watch badminton @Pvsindhu1! #proud pic.twitter.com/iejwHpdmWB

— Akshay Kumar (@akshaykumar) August 20, 2016
Also, have a look at how other Bollywood stars are showering love on her:
Congratulations @Pvsindhu1 on your achievement. You have made all Indians very proud. #PVSindhu

— SRIDEVI BONEY KAPOOR (@SrideviBKapoor) August 20, 2016
Take a bow #PVSindhu. You made the nation proud. Your achievement is historic !!! 🙌🏻🙌🏻 pic.twitter.com/xxElJG5fOk

— URVASHI RAUTELA⚡️BijliKiTaar⚡️ (@UrvashiRautela) August 20, 2016
T 2353 - #PVSindhu .. look what you did .. you had 1.25 billion people rooting for you !! That is no mean achievement ! Proud of you !!

— Amitabh Bachchan (@SrBachchan) August 19, 2016
The golden girl!!!! Huge congratulations to the #PVSindhu ....India's heart beams with pride today! pic.twitter.com/5QDjPvzLy2

— Karan Johar (@karanjohar) August 19, 2016
Landed back in Mumbai to the great news of #PVSindhu's Silver medal. Will be proud to take selfies with both Sakshi & Sindhu.:) #Icons

— Anupam Kher (@AnupamPKher) August 19, 2016
#GopichandPullela what a coach. Salute you sir. #PVSindhu your protege, our pride

— kunal kohli (@kunalkohli) August 19, 2016
#PVSindhu has brought so much happiness to an entire country. Hard work and determination always pays off so much to learn from her

— Varun Dhawan (@Varun_dvn) August 19, 2016
Congratulations #PVSindhu .. so happy for you and your corner.. this silver medal is just the beginning.. Shine On!! #Olympics2016

— Farhan Akhtar (@FarOutAkhtar) August 19, 2016
I was on the edge of my seat. What a game & what an athlete. PV Sindhu! You have won our hearts. #proud pic.twitter.com/OuKkvbATrc

— Hrithik Roshan (@iHrithik) August 19, 2016
Proud of #PVSindhu for winning us the Silver.More power to you Respect! #RioOlympics2016

— Sidharth Malhotra (@SidMalhotra) August 19, 2016
What a great day for Indian sport. Young girls and boys everywhere have a new idol. And this one is just getting started. Salute #PVSindhu

— Siddharth (@Actor_Siddharth) August 19, 2016
You go girl!!!!! Making EVERY one of us proud!!!! Congratulations #PVSindhu #SinduWinsSilver #Rio2016 shineeee onnnnnnn ⭐️⭐️⭐️

— Alia Bhatt (@aliaa08) August 19, 2016
Hear a nation roar for you tonite #PVSindhu !! God bless

— Lara Dutta Bhupathi (@LaraDutta) August 19, 2016
Bow down to this talent .. n spirit #PVSindhu @Rio2016_en .. Big fan !! So proud ! 👏👏👏

— Chitrangda Singh (@IChitrangda) August 19, 2016
What a game 🙀 !Congratulations @Pvsindhu1 on d Silver.Much much respect 4 ur spirited performance & sportswomanship 👏🏼#PVSindhu

— Anushka Sharma (@AnushkaSharma) August 19, 2016
I've watched @rogerfederer play n cheered loudly 4 him alone,today I cheered along with India 4 @Pvsindhu1.Ty 4 giving us this day #PVSindhu

— Pooja Hegde (@hegdepooja) August 19, 2016
PV Sindhu creates history! Girl power rules. Bravo !

— Mahesh Bhatt (@MaheshNBhatt) August 19, 2016
Well played... Well fought... Well deserved 👏🏼👏🏼👏🏼 #PVSindhu TAKE A BOW!

— Diana Penty (@DianaPenty) August 19, 2016
Satellite photos will show an entire nation giving you a standing ovation. @Pvsindhu1 You showed class, grace and grit!#Rio2016 #PVSindhu

— Boman Irani (@bomanirani) August 19, 2016
Proud proud!! Our champion does settle for a silver but she is worth many golds! She is our girl! Indiaaaa be proud of ur daughter #PVSindhu

— Shreya Ghoshal (@shreyaghoshal) August 19, 2016
PV SINDHU..
WE ARE PROUD OF YOU...
YOUR PERFORMANCE IS WORTH MORE THAN GOLD...

— rajamouli ss (@ssrajamouli) August 19, 2016
Well done . So proud of you girl. #PVSindhu

— Mini Mathur (@minimathur) August 19, 2016