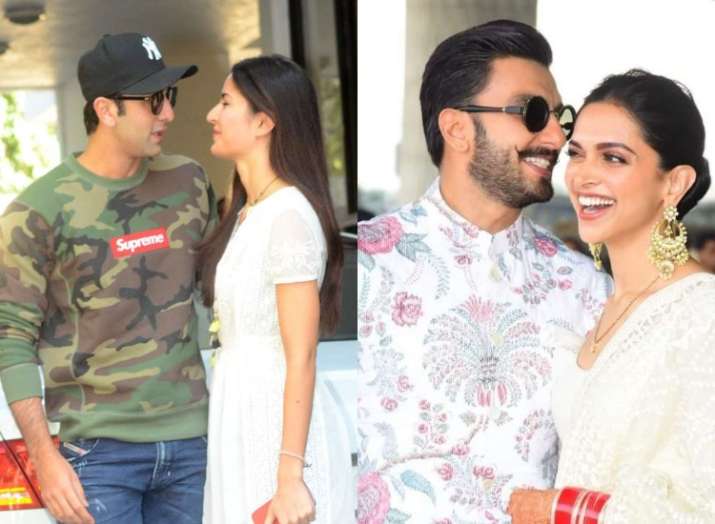 Latest Bollywood News and Updates January 13: The year has started on a great note with new beginnings and success knocking the doors of many Bollywood celebrities. After ending 2018 on a blockbuster note with Simmba ruling the box office, Ranveer Singh has started training for Kapil Dev's biopic called 83. Rumours were rife that Deepika Padukone will be seen playing the role of his wife in the film but now it is learned that she has turned down the film. On the other hand, after Hardik Pandya's controversial statement on Koffee With Karan, an old video of Ranbir Kapoor and Katrina Kaif has surfaced the internet in which Katrina Kaif is seen fuming on Ranbir for making indecent remarks. Also, Kangana Ranaut opens up about her contemporaries Deepika Padukone, Alia Bhatt, and others and claims that 'They pretend I don't exist'.
VIDEOS: Ranveer Singh, Varun Dhawan, Rohit Shetty squeeze Vicky Kaushal out of love at Uri special screening
Ranveer Singh, the powerhouse of energy, is often seen going to extreme ends to praise each other's work in the industry. There is no denying Bollywood celebs make it a point to encourage every actor for their film and even promote it in their coolest way. Keeping up with this saying, Bollywood's brigade of handsome actors like Ranveer Singh, Varun Dhawan, Katrina Kaif and others attended the special screening of Vicky Kaushal starrer Uri: The Surgical Strike last night and their sizzling camaraderie shows how happy they are of Vicky Kaushal's terrific film.
The pictures and videos from the screening have gone viral on the internet as Ranveer, Varun and filmmaker Rohit Shetty are seen giving 'jaadu ki jhappi' to the Uri actor and praising him again and again. In one of the videos, the Bollywood stars are seen posing for the paparazzi with Vicky Kaushal in the middle and squeezing him like an adorable child. In the same video, Bollywood diva Katrina Kaif is seen laughing watching them do their mushy poses. Watch the video here-
Along with Ranveer, Varun, Rohit Shetty and Katrina Kaif, many other Bollywood celebs arrived for Vicky Kaushal's special screening of Uri. Celebs like Bhumi Pednekar, Kapil Sharma, Tusshar Kapoor, Anil Kapoor, South sensation Priya Varrier and others graced the special screening.
Kangana Ranaut opens about Deepika Padukone, Alia Bhatt and other actresses, says 'They pretend I don't exist'
Kangana Ranaut is one of those Bollywood actresses who never shy away from putting forward their opinions without any fear. From talking about the famous Me-Too Campaign to her contemporaries, Kangana has always managed to be blunt about everything ever since she stepped in Bollywood. As the actress kickstarted the promotions of her upcoming film Manikarnika: The Queen of Jhansi, the actress spoke at length about her position in Bollywood as well as about her contemporaries like Alia Bhatt, Deepika Padukone, Anushka Sharma and others. 
During an interview with News18, Kangana was asked about the other actresses in B-town and is she feels threatened by them. She stated, " don't feel so threatened by anyone around. You know like you see I will praise Alia or I would praise Anushka or I would praise everyone. I never shied away from going to Deepika's Piku trial. Everyone I have praised in my capacity. Sonakshi's Lootera I saw and the whole year I praised her. I don't get threatened. Why don't I see same sort of...why is everyone like, "Oh, oh, oh she doesn't exist"? Why is that going on? I exist. My film has crossed millions and millions of views and it is one of the most promising films of this year. So when they pretend I don't exist...nobody ever talks about my teasers or trailers."
WATCH: Katrina Kaif snaps on Ranbir Kapoor for making indecent comments in this old video
Katrina Kaif and Ranbir Kapoor's story goes long back eve before the duo started dating. From being just co-stars to becoming a couple, the duo has seen many things together. However, after dating for years in 2016, the couple decided to call it quits. The fans and well-wishers of the couple were heartbroken when they heard about it. Meanwhile, an old video of the couple from the days when they were promoting Raajneeti together has surfaced the internet in which, Ranbir Kapoor is seen making indecent remarks on Katrina Kaif.
In the video going viral on the internet, Ranbir Kapoor is seen commenting on Katrina Kaif's mic that keeps falling. He says, "why does your mic keep dropping?" and "do you need help in fixing it?". This makes Katrina furious and she snaps at Ranbir for making indecent remarks. However, Ranbir continues and tells Prakash Jha, who is also present for the interview, that "She keeps fighting all day, sir.". Check out the below video-
Pathetic from Ranbir..

Asking a woman surrounded by other men "why does ur mic keeps dropping" & "do u need help in fixing it", then wen Katrina fiercely reacts to it, he replies "She keeps fighting all day sir" in such a shameful manner..

PS: He was dating Deepika those days.. pic.twitter.com/Z3FyMXMFAI

— Aatma Nirbhar Indom (@IndomitableRVS) January 11, 2019
This is not the first time but fans have often seen Ranbir and Katrina fight like Tom and Jerry during the interview and never coming to terms with each other's opinions. In another video from the promotional junket of a film, Ranbir and Katrina re seen answering 'Who's more likely to' and the video shows how Katrina fumes on Ranbir's words and asks him to answer for himself only. Check out the video here-
Ranveer Singh on Anushka Sharma, Katrina Kaif attending his wedding reception: It meant a lot to me
Bollywood has always been a complicated place when it comes to friendships and relationships. There was a time when Katrina Kaif was dating Deepika Padukone's ex-boyfriend Ranbir Kapoor and Anushka Sharma is said to have a thing with Ranveer Singh for a short period of time while shooting Band Baaja Baarat. While now, all the celebs have moved on in their lives, they are often seen together in parties and in each other's happiness.
Ranveer Singh, who maintains a good relationship with almost everyone in B-town, recently appeared on Famously Filmfare where he spilled the beans about his married life and the endless celebrations he had with Deepika Padukone after the wedding. Talking about the star-studded wedding reception in Mumbai, Ranveer confessed that it was a big thing for him that both Anushka Sharma and Deepika Padukone arrived to shower them with blessings. He said, "They weren't there for the sake of it. They were there to wish us well, which was a really lovely gesture. It was very significant & special for me that Anushka came. It meant a lot to me. It really did."
Has Deepika Padukone opted out of Kapil Dev's biopic starring Ranveer Singh for this reason?
When the news of Ranveer Singh and Deepika Padukone coming together for Kapil Dev's biopic called 83 broke the internet, fans were extremely excited to see the couple together on the big screen once again especially after marriage. However, now the buzz has it that Deepika has turned down the film since she doesn't have much to do in it.
Going by the reports in Deccan Chronicle, it is being said that Deepika Padukone has turned down that film since her role in the film is not impact. The report suggests, "'83 is a boys' film. The focus is on Kapil Dev and his team bringing home the World Cup. Ranveer plays Kapil Dev. While Deepika playing his wife Romi sounds tempting, it's just not true. Kapil Dev's wife's role will be very limited in this film and Deepika is a huge brand. She wouldn't do any film just because her husband is in it."
While Deepika might not be the part of the project anymore, husband Ranveer Singh has already started preparing for the biopic. Ranveer Singh took his Instagram handle to share a pic from his training. Captioning the pic, he wrote, ''#kapildev @83thefilm #balwindersinghsandhu @kabirkhankk.''' Infact, Kabir Khan also shared the same pic and in the caption of the pic he wrote, ''Training begins...  #83#kapildev @ranveersingh @83thefilm#balwindersinghsandhu.'' In the pic, Ranveer can be seen sporting batting pad and holding a bat in his hands while former Indian cricketer Balwinder Singh Sandhu training him to play like Kapil Dev.
 Sara Ali Khan on Nepotism: I am aware of it and the unfairness that it might come with
Sara Ali Khan, daughter of Saif Ali Khan and Amrita Singh, has already marked her name in golden words in the industry with just two films to her credit. With her first film Kedarnath, Sara Ali Khan made sure that she rule people's hearts and with Simmba, she became the ruling queen of box office. While Sara proved her acting mettle with the films, she is often quizzed about nepotism and the benefits that come with it. There is no denying that the actress has answered all the questions related to the topic with great dignity and has always maintained that she realizes nepotism exists but star kids also have to prove themselves in order to make their mark.
Recently while talking to Hindustan Times, Sara said, "Some comments that I get from people are politically incorrect to quote because one of them said, "We are glad that nepotism has brought people like Sara Ali Khan". That is a huge compliment because I am aware of nepotism and the unfairness that it might come with. I am aware that I have access to more things in the industry than other people do. But, I don't think that it's pressure."
More Bollywood stories and picture galleries
For all latest news and updates, stay tuned to our Facebook page