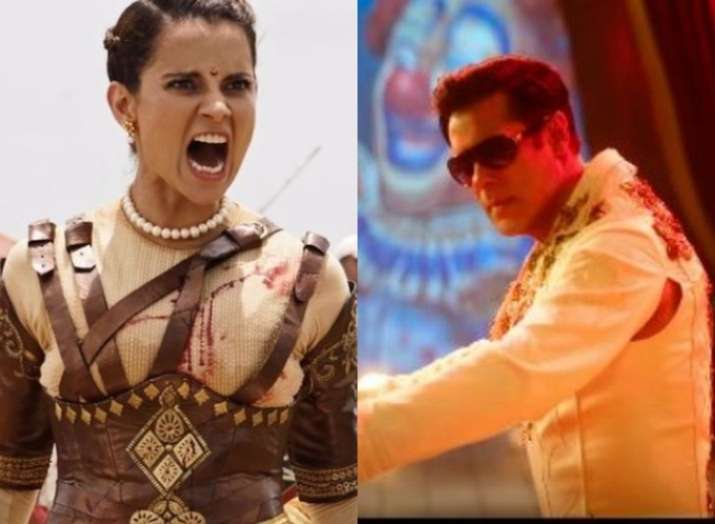 Latest Bollywood News and Updates January 25: Bollywood has treated the movie buffs with two power-packed movies today- Manikarnika: The Queen if Jhansi and Thackeray. While Kangana Ranaut's film opened to great reviews, fans can't stop praising Nawazuddin Siddiqui's stellar depiction of Balasaheb Thackeray in the film. On the other hand, Ranveer Singh and Alia Bhatt launched the music of their upcoming film Gully Boy in a grand event last night. Also, a man died on the sets of Shahid Kapoor starrer Kabir Singh as they were shooting for the film in Mussoorie. Salman Khan treated his fans with the much-awaited teaser of his upcoming movie Bharat. Have you seen it yet?
Have a look at all the latest Bollywood news and updates on January 25 here-
Manikarnika Review | Kangana Ranaut's directorial craft is okay; Ankita Lokhande impresses
"Khoob ladi mardani woh toh Jhansi wali Rani thi", is a part of a famous verse written in regard to the bravery of Rani Lakshmi Bai. But this very essence in the film was missing somewhere. While actress Kangana Ranaut pulled off the lead character very strongly in the action sequences, it was hard to take our eyes off her, other acts make us contradict to our own statement. Read on to find out more about the film!
Manikarnika: The Queen of Jhansi | Overview
Manikarnika or Manu, Lakshmi Bai, Rani of Jhansi -all these are the diminutives of the queen of the princely state of Jhansi in North India currently present in Jhansi district in Uttar Pradesh, India. One of the leading figures of the Indian Rebellion of 1857 and became a symbol of resistance to the British Raj for Indian nationalists.
Born in Bithoor, Manikarnika was always known for her strength and bravery. Beginning with Amitabh Bachchan's voice over, Kangana Ranaut sets the pace right in the first 5 minutes with an action-packed scene where she is seen hunting down a tiger, what follows next is a tiresome first half. The second half of the film is surely better than the first half.
Anushka Sharma can't handle husband Virat Kohli's 'beauty' in these latest Instagram pictures
Anushka Sharma and Virat Kohli have been giving fans major couple and relationship goals ever since the rumours of their love affair surfaced the internet. The duo who got married in December 2017 has been spending some time together after the release of Anushka Sharma's last film Zero in the beautiful locales of Australia. On Thursday, Bollywood diva flooded her Instagram stories with a number of pictures of her handsome husband Virat Kohli and claimed that he is 'such a beauty'.
Anushka Sharma took to her Instagram to share her special moments with husband Virat Kohli with her fans and they were all deep in love. Anushka, firstly, shared a picture of herself as she was seen basking in the sun and looks like it was husband Virat Kohli who shared it. Then she shared a close up picture of Virat Kohli followed by a superzoom video that said, 'Uff, can't handle the beauty'.
Check out the pictures and videos here-
Bharat Teaser Out: Witness Salman Khan in many avatars in this one-minute video
After a long wait and much anticipation, the first teaser of Salman Khan's upcoming film Bharat has been unveiled. Directed by Ali Abbas Zafar, the film looks like dated back to the times of partition going by the first scene. In the first scene, a train jampacked with people is shown blowing whistles. It will give you a glimpse of the time during India-Pakistan partition during which people struggled to cross the boundaries and start their life afresh. Salman Khan is introduced as Bharat who doesn't have a surname. He goes on explaining that when his father named him after this great country, why would he even need a surname to complete himself.
Priyanka Chopra and Nick Jonas' latest pictures from their Haldi ceremony are all about traditions
Priyanka Chopra and Nick Jonas left everyone starry-eyed when they shared the first pictures of their dreamy wedding ceremony on December 1 and 2 last year. The couple looked every bit out of a fairytale for both the weddings ceremonies through English as well as Indian traditions. Fans were still not over the gorgeous pictures of the lovestruck couple that new pictures from the couple's Haldi ceremony have surfaced the internet. 
Priyanka Chopra and Nick Jonas look completely in love in the latest pictures that have gone viral on the internet. The actress is seen wearing a gorgeous white lehenga and complimenting his lady love, Nick Jonas is also seen wearing white. The pictures are proof that the couple's haldi ceremony was driven by traditional and a lot of fun. 
Check out the candid photos here:
In Pics: Mira Rajput shares pictures from daughter Misha's playdate 
Shahid Kapoor and Mira Rajput are the doting parents to two adorable kids; Misha and Zain. The young mother keeps herself busy with her kids, the proof of which we often get to see on the social media. Recently, she shared the pictures on Instagram from her daughter Misha's playdate with Abhishek Kapoor and Pragya Yadav's daughter Isana Kapoor. The pictures have now gone viral on the internet. Check out the pictures here.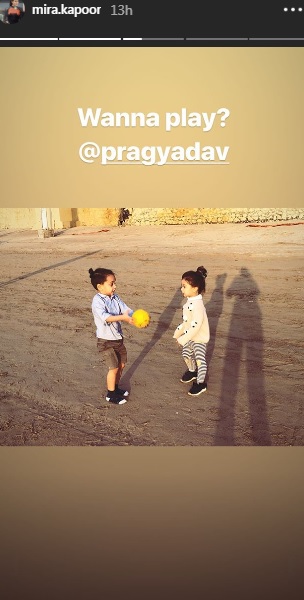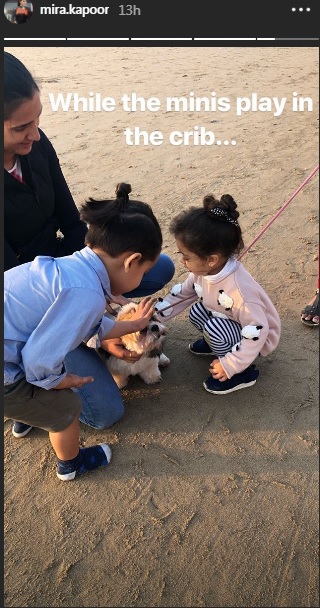 VIDEO: Ranveer Singh, Alia Bhatt pull the crowd together with their performance at Gully Boy Music launch
Ranveer Singh and Alia Bhatt launched the music of their upcoming film Gully Boy in a rocking event in Mumbai last night and it was pure fire. The duo rocked the stage with their sizzling entry and performed on the best tracks from their album including everyone's favourite 'Apna Time Aayega'. While Ranveer Singh and Alia Bhatt are the most talented actors of the industry, last night they had their singer and rapper mode on and performed like true rock stars on the stage. Just with their entry, the actors added spark to the night dressed in green. While Alia Bhatt wore a green slim fit party dress to the event, Ranveer rocked a green outfit paired with a dazzling silver colored jacket.
The jukebox completely meets the expectations of all the music lovers out there as it has songs by talented artists namely Spitfire, Ankur Tewari, Divine, Naezy, Rishi Rich, Dub Sharma, Raghu Dixit, Javed Akhtar, Midival Punditz & Karsh Kale, Jasleen Royal, Kaam Bhari and Ace to name a few. At the music launch event, Ranveer and Alia performed LIVE for their fans and it created a huge wave of excitement among them. Check out their pictures and videos pulling the crowd here-
Man dies on sets of Shahid Kapoor starrer 'Kabir Singh' in Mussoorie. Read details
A man died on the set of the upcoming film "Kabir Singh", starring Shahid Kapoor and Kiara Advani, in Mussoorie. The producers of the film have offered support to the family of the deceased crew member. Ram Kumar, 35, a resident of Uttar Pradesh, lost his life in an accident at the five-star hotel where the film's unit is staying. The incident took place before the commencement of the shoot on Thursday.
Kumar was among the local crew and was working with the film unit from Dehradun as a generator operator. He was checking the water level in the generator when his muffler got entangled with the generator's fan and in the process, Kumar too was pulled in. Kumar sustained serious injuries on his head. 
He was immediately rushed to a hospital in Dehradun where he was put on a ventilator for a few hours before he passed away.  Kumar is survived by three brothers and a sister. 
The producers of the film, Cine1 Studios and T Series Films, said in a joint statement: "We are deeply saddened by the loss. We are extending our deepest sympathies to the family of Ram Kumar. We are offering support to the family in the immediate aftermath of this tragic event."
I have cursed Ganesh Acharya, Rakhi Sawant from bottom of my heart: Tanushree Dutta 
Tanushree Dutta will not sit quietly until the perpetrators Nana Patekar and Ganesh Acharya reap that they have sown. The actress created a ruffle in the industry in October last year by starting a #MeToo movement in India. She opened up on the sexual harassment episode that she faced while filming for Horn OK Please. She even slammed Ganesh Acharya for becoming a privy to everything that happened to her on the sets. Tanushree again spoke up against Nana Patekar and Ganesh Acharya in statement.
She said, "Ganesh Acharya, an ungrateful moron who was recommended by me for the horn ok please song and who turned on me just as quickly to help Nana get his way with me on the sets. His name is one of the four accused in my FIR. I wasn't harassed by just one but four ppl on set when I was only 24 years old and rising in my Bollywood career. This same Ganesh Acharya also went on to spread malicious rumours about me in the press thereafter and ruin my professional reputation. This guy is the brainchild behind all of the smear campaigns that were run on me by Rakhi Sawant where I was accused of all manner of derogatory things."
More Bollywood stories and picture galleries
For all latest news and updates, stay tuned to our Facebook page