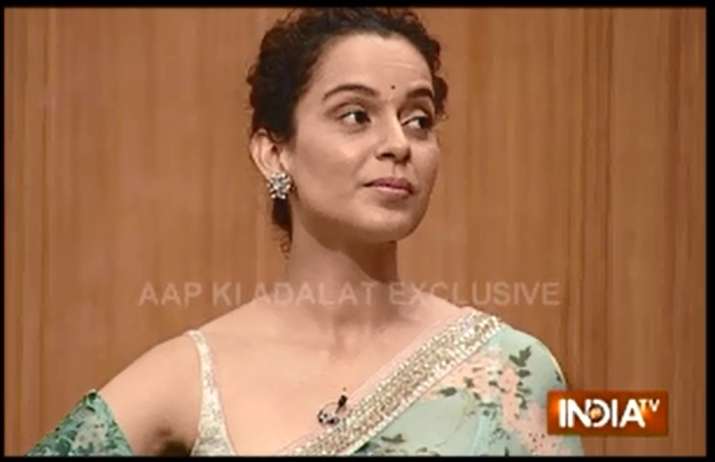 Kangana Ranaut is on a roll during her interview with Rajat Sharma in popular TV show Aap Ki Adalat. Kangana gives away a number of controversial details about her much talked about tiff with Bollywood actor Hrithik Roshan. In previous Aap Ki Adalat promos, we've seen the Simran-actress blurting out how she felt when the actor revealed her personal emails to public. At one point of the sequence, she almost had an emotional outburst while talking about the struggles and humiliation she went through due to the whole Hrithik Roshan-fiasco. 
In yet another promo, the most flamboyant actress of Bollywood sheds light cryptically on how her once-rumoured flame danced crazily on her birthday party. This happened when the host of the show Rajat Sharma quotes one dialogue from movie 'Revolver Raani' , "Mard Ko Dard Hona Chahiye'. He also takes a jibe at her, that plenty of men in the film fraternity are in trouble because of her.   
Also Read: Kangana Ranaut challenges Roshans to expose her on Aap Ki Adalat
Kangana, who never minces her words, answers the question in most suave manner, "Which man are you talking about?" 
She adds, "If he so much of problems with me, then why he danced rolling on the floor in my birthday party?"
Kangana Ranaut spoke volumes about her alleged affair and fallout with her Krish co-star Krishh 3. Her episode on Aap Ki Adalat is surely going to make headlines. To watch the full episode, tune in to India TV on Satuday at 10 pm. 
Also Read: It was like 'second death' to go through when Hrithik Roshan exposed my private mails, says Kangana Ranaut in Aap Ki Adalat
Last year, Kangana Ranaut and Hrithik Roshan were embroiled in an ugly spat due to her alleged remark about 'silly exes' which infuriated the latter. There had been claims, counter-claims and legal notices flowing between Kangana and Hrithik. Though the tussle didn't meet a happy end, it subsided after a while. After almost a year, Kangana gets vocal about her fallout with Hrithik Roshan. 
For more entertainment news and updates, follow our Facebook page