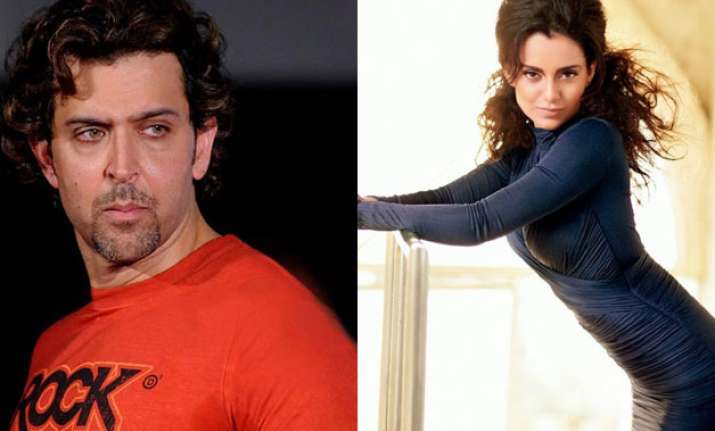 New Delhi: The war of words going on between ex-lovers Hrithik Roshan and Kangana Ranaut is getting uglier with every passing day.
Earlier, Hrithik and Kangana were spotted taking a dig at each other at public events. However, now this rivalry has taken a legal turn.
Both the celebs have slapped each other with legal notices. While Hrithik has accused Kangana of defamation, the 'Queen' actress has charged the actor of threat and intimidation.
But looks like, Kangana has taken this legal notice way too seriously and is planning to take some strict actions against the 'Bang Bang' actor which might land him behind the bars for 10 years.  
Yes! You read that right. Hrithik Roshan might get jailed for a decade.
According to the 21 page legal notice filed by Kangana's lawyer Rizwan Siddiquee, if Hrithik makes Kangana's personal correspondence public like he has threatened to do so in his notice then the actor can be put behind bars for 10 years.
The diva's lawyer has charged Hrithik under Section 67 of the Information Technology Act, which reads as
"Whoever publishes or transmits or causes to be published in the electronic form, any material which is lascivious or appeal to the prurient interest or if its effect is such as to tend to deprave and corrupt persons who are likely, having regard to all relevant circumstances, to read, see or hear the matter contained or embodied in it, shall be punished on first conviction with imprisonment of either description for a term which may extend to five years and with fine which may extend to one lakh rupees and in the event of a second or subsequent conviction with imprisonment of either description for a term which may extend to ten years and also with fine which may extend to two lakh rupees."
Rizwan Siddiquee has also incorporated Section 499 and 500 of Indian Penal Code, which says
"Defamation, and the subsequent punishment for the same is imprisonment up to 2 years or fine or both"
along with Section 506 according to which
"Punishment of Criminal Intimidation to impute unchastity to a woman, which has a prison term up to 7 years or payment of a suitable fine, or both."