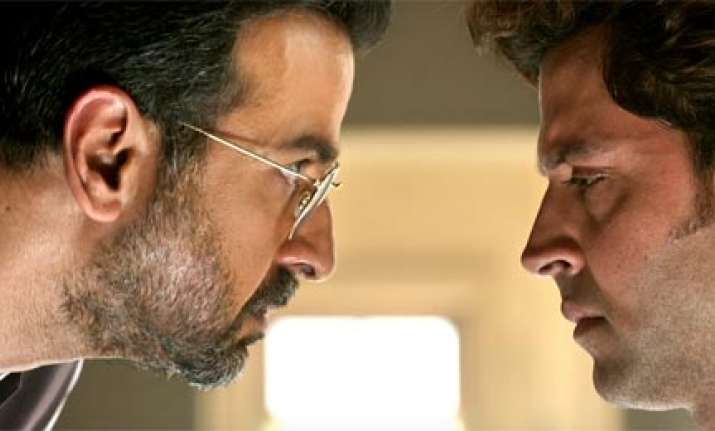 Actor Ronit Roy served as a bodyguard to superstar Hrithik Roshan sixteen years ago, a fact revealed by the former that will blow the minds of many cine buffs. Ronit, who owns a security agency, provided personal protection to Hrithik after the latter's debut movie 'Kaho Naa Pyaar Hai' was released.
But now things have changed drastically. From being Hrithik's bodyguard, Ronit will be seen as his nemesis in the upcoming movie 'Kaabil'.
So obviously things were a little awkward for him to share space with Duggu. However, much to Ronit's surprise, Hrithik made him feel extremely comfortable.
Talking about the bond they shared during filming, Ronit in a recent interview told that initially he didn't know how to react around him on sets, but Hrithik broke the ice for him. He said that the superstar ensured that the hard core action sequences were safe for both of them.
Well, this tells a lot about the humbleness that Hrithik has in his nature.
In the thriller, Ronit essays the role of Madhavrao Shela, a Maharashtrian. To perfect the role, he took Marathi lessons from actress Sonali Kulkarni's brother Sandesh. Telling about learning a new language, Ronit said that imbibing Marathi wasn't difficult but speaking Hindi like a Maharashtrian was a Herculean task.
Ronit added that he used to have long discussions with director Sanjay Gupta about how much Marathi will he be required to speak. So much so, that at one point Sanjay got irritated and said that no other actor has chewed his mind as much as him, revealed Ronit.
Apart from being his first movie with Hrithik, 'Kaabil' is also the first time that the 'Roy' brothers would be seen on silver screen together. Ronit said about his brother Rohit Roy that he has carved a niche for himself with his acting skills.
'Kaabil' will release on January 26, next year.