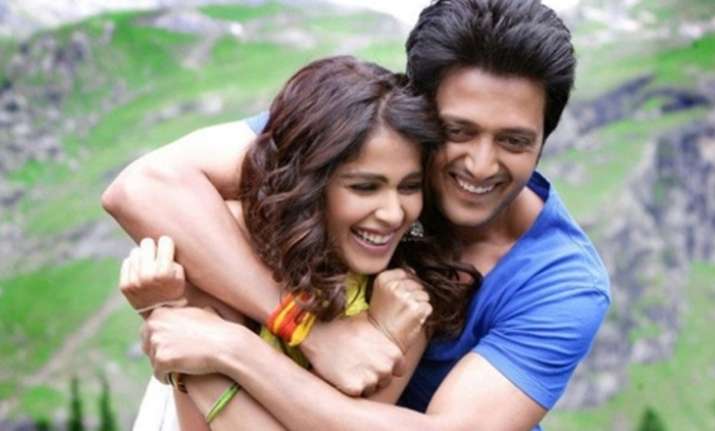 15 years back, on this day, Bollywood actor Riteish Deshmukh's debut film, Tujhe Meri Kasam, released, which means Riteish has completed 15 years in the industry today. This day in 2003, Riteish debuted with Tujhe Meri Kasam opposite Genelia D'Souza, now Deshmukh. Not only this, the film marked the beginning of a love story between Riteish and Genelia, who are now one of Bollywood's much-loved power couples. After courting each other for years and keeping their relationship away from the media, the duo got married in a lavish ceremony on February 3, 2012. 
Today to celebrate the occasion of their debut movie Tujhe Meri Kasam completing 15 years, Riteish shared a series of tweets on social media that have a heartwarming poster of the movie with a heartfelt message for his wife Genelia D'Souza who was his co-star in the film.
Riteish thanked his director Vijaya Bhaskar and producer Ramoji Rao for casting him in the film and revealed that cinematographer Kabir Lal recommended him for the role.
Sincere thanks to Director Vijaya Bhaskar Ji - I Love You Sir, Producer Shri Ramoji Rao Sir 🙏🏽 Respect.
Cinematographer Kabir Lal Sir- who recommended me. 🙏🏽.
#15YearsOfTujheMeriKasam pic.twitter.com/npIpCgd6jQ

— Riteish Deshmukh (@Riteishd) January 3, 2018
In another post, Riteish said that his debut film had changed his life. He also shared a poster of the movie where Riteish Deshmukh and Genelia D'souza are looking fresh-faced and extremely young. The couple got married in 2012 and is blessed with two boys named Riaan and Rahyl. 
Riteish who is popular because of his sense of humour added fun to a post that he shared on Twitter. It turns out Riteish's better half didn't quite give him any attention during the first two days of their shoot all because of a rather unusual reason. 
.@geneliad didn't speak to me for the first two days during the shoot of the film because my father was the Chief Minister on Maharashtra then. #15YearsOfTujheMeriKasam pic.twitter.com/dezgUiqtpz

— Riteish Deshmukh (@Riteishd) January 3, 2018