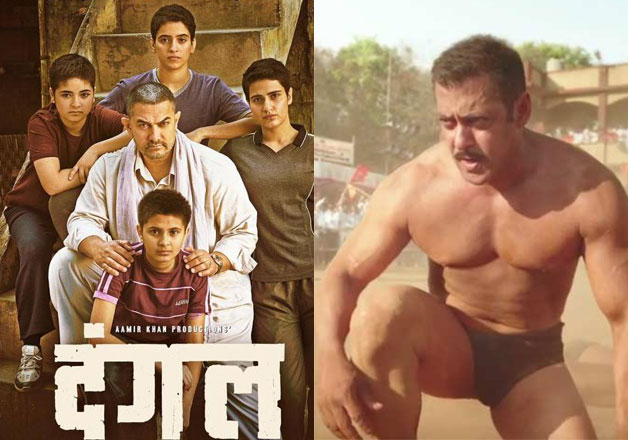 The moment the trailer of Aamir Khan's upcoming movie 'Dangal' was released it took over the internet by a storm. Everyone was simply awestruck by Mr. Perfectionist's performance in the trailer which left them wanting for more.
Amidst all the fan frenzy for 'Dangal', it was superstar Salman Khan whose reaction was most eagerly awaited considering that his movie 'Sultan' shares the same theme with that of the Aamir Khan starrer.
Both 'Sultan' and 'Dangal' are based on wrestling and features the famous dhobi-pachad sequence. However, the plot of both the movies varies entirely with 'Sultan' being based on a fictional character while 'Dangal' is the story of wrestler Mahavir Singh Phogat and his daughters.
According to the media reports, not just the theme but Salman felt that both movies have a lot more in common with many scenes being quite similar.
Salman is said to have watched the trailer of 'Dangal' in Manali where he was shooting for his next movie 'Tubelight'.
"After watching the trailer, he too observed the scooter and the sweater scene and found it similar to his wrestling drama", a source told an entertainment portal.
Interestingly, the striking similarities between 'Dangal' and 'Sultan' has been a matter of concern for Aamir since the beginning. Though he refused to comment on it, reports were rife that post watching 'Sultan' Aamir made several changes in his movie.
Besides, when Salman was quizzed about Aamir's concern post 'Sultan' release, he saw no reason for the 'PK' actor to worry.
Singing praises for 'Dangal' Salman had stated he has read the script and said that it is quite interesting. In fact he also mentioned that if given a chance he would have done both the movies, first Sultan, then Sultan Ka Dangal.
Well, 'Sultan' had done a commendable business on the box office. Now only time will reveal if Aamir Khan's 'Dangal' will be able to beat its record.
'Dangal' also featuring Sakshi Tanwar, Fatima Sana Shiekh and Sanya Mlhotra, is said to release on December 23 this year.