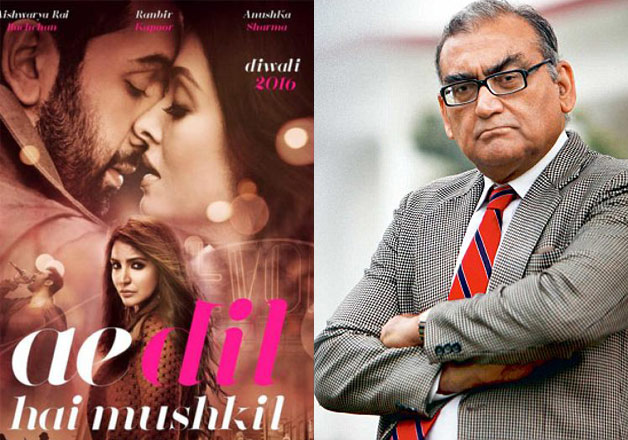 The debate over the release of Karan Johar's 'Ae Dil Hai Mushkil' doesn't seem to be fading away anytime soon.
While MNS is making efforts to restrict the release of the movie, retired Supreme Court judge Justice Markandey Katju has now come out in support of the ADHM
Known for his straightforward opinions, Justice Katju lashed out MNS for stalling the release of 'Ae Dil Hai Mushkil' on micro-blogging site Twitter in a series of tweets. He stated that instead of targeting the helpless; MNS should deal with him. Moreover, his danda is also getting impatient for them.
Markandey Katju didn't stop here. In his next tweet, he targeted the Raj Thackeray led party and called them goonda.
MNS people are goondas who have drunk the salt water of the Arabian Sea. I am an Allahabadi goonda, who has drunk the water of the Sangam

— Markandey Katju (@mkatju) October 19, 2016
Katju said for these goondas he himself is a Allahabadi goonda who has drunk the water of the Sangam. He further challenged MNS to have dangal with him instead of targeting the artists.
. So instead of showing your bravery on those helpless artists, come have a dangal with me, and let the world see who is a bigger goonda

— Markandey Katju (@mkatju) October 19, 2016
Interestingly, besides the film fraternity, he is not the first one to voice his opinion in favour 'Ae Dil Hai Mushkil' and Pakistani artists. Earlier, former Indian cricketer and commentator Sanjay Manjrekar too had hit out at MNS for creating a ruckus over the release of 'Ae Dil Hai Mushkil' starring Pakistani star Fawad Khan
"One MLA party, MNS, not learning their lessons. With threats of vandalism, etc. they are certain to be a zero-MLA party next elections," Manjrekar tweeted, entering the field of MNS-bashers.
Surprised by the sudden assault, the MNS reacted by questioning Manjrekar's credentials to speak on the issue.
"At least we have one MLA ... On what basis is he talking like this," MNS Vice-President Vageesh Saraswat asked even as President of the MNS-affiliated Chitrapat Sena Amey Khopkar criticised Manjrekar's comments on the issue.
On the other hand, agitated by the entire controversy, Karan Johar stated that he is quite upset by being called as an anti-national. He also assured that he won't be working with any of Pakistani artists in future and urged the protestors to allow the release of ADHM.
'Ae Dil Hai Mushkil' starring Ranbir Kapoor, Aishwarya Rai Bachchan and Anushka Sharma is expected to release on October 28.
(With IANS Inputs)