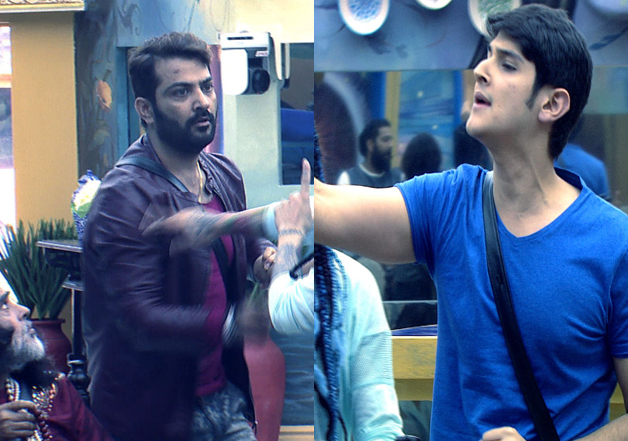 A big fight between a celeb and India wale will take place in the Bigg Boss house tonight. We have witnessed how the concept of bringing commoners with celebs has led to uncomfortable situations in the house and one celeb will lose his patience tonight.
In today's episode viewers will see actor Rohan Mehra getting into a war of words with Manoj Punjabi. The main reason behind this fight is the luxury budget task 'Raaz' which Bigg Boss has allotted.
We all know that in this task, celebs are made to guess which India-wala owns the specified dark secret. The fear of unravelling of their dark secrets in front of the nation has got the common people tipping.
The fight between Rohan and Manoj is an example of that. Here is how the entire incident will play out:
Just when Rohan will sit down to have breakfast, India-wali Priyanka Jagga will ask him to sit next with him. This will happen when other celebs will be brainstorming to solve the riddle about the secret. Sensing that Priyanka called him to keep him away from other celebs, Rohan will say that these tricks won't work as they know who the owner of the secret is.
On overhearing this, Manoj Punjabi will tell Rohan that he doesn't know anything and he can't do anything. Words 'tu kuch nahi kar sakta' will piss Rohan and he will lose his cool with Manoj. This will escalate the matter and the two will get into a verbal fight, with other inmates trying to calm them down.
In fact, later when Swamiji will ask Rohan to keep his cool, he will flip out at the 'sanyaasi' too asking him to leave him alone.
Well, looks like the celebs have had enough of the tantrums of the commoners. One thing is certain, that during the course of the season there will be more clashes between them due to one reason or another.