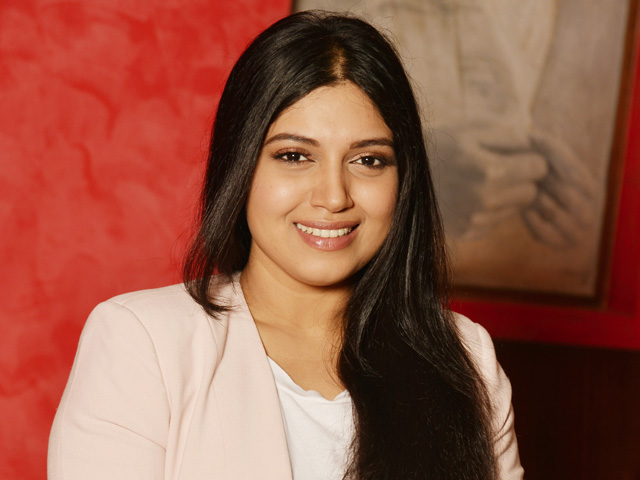 Actress Bhumi Pednekar, who is gearing up for the release of her upcoming film Toilet: Ek Prem Katha, has stated that her film doesn't promote stalking. In one of the songs of the movie, actor Akshay Kumar can be seen following the lady on a motorbike, train and even recording her video on phone. On being asked, Bhumi said that it is not stalking if someone has not objection with it adding that people will get to everything once they watch the film.
When asked about the criticism that a mainstream filmlike Toilet... should not have promoted stalking, Bhumi says, "I agree but in the second part of the song, she is doing the same thing. There is a lot that happens around the story. Had this been an important aspect of the story, where he has become an obsessive lover, threatening her (then it's a different thing), he isn't mentally harassing the girl." 
The actress says Toilet: Ek Prem Katha steers clear of stalking. 
In an interview with PTI, Bhumi says, "I can't indulge in it because I would be giving away a lot of story, but where my film is concerned, stalking isn't an aspect. I can't give out a lot of information but that wasn't the intention at all. Once the girl's version was out, a lot of these talks died down." 
When asked that two wrongs can't make a right, Bhumi says, "I agree but it is only stalking till the other person is objecting to it. If I am following you around or mentally harassing you, then it's stalking. But if I am not objecting to it, then how's it stalking?" 
When asked if it was not wrong to secretly record someone, the "Dum Laga Ke Haisha" actress says once people watch the film, all queries will be answered. 
"There is a lot which happens before and after that, which will all make sense once you see the film in the larger context. It's not one of those things where he is secretly recording me and then he threatens me. When you see the film, all your questions will be answered," she says. 
Toilet: Ek Prem Katha is directed by Shree Narayan Singh and is slated to release on August 11.
(With PTI Inputs)
For more entertainment updates follow our Facebook page