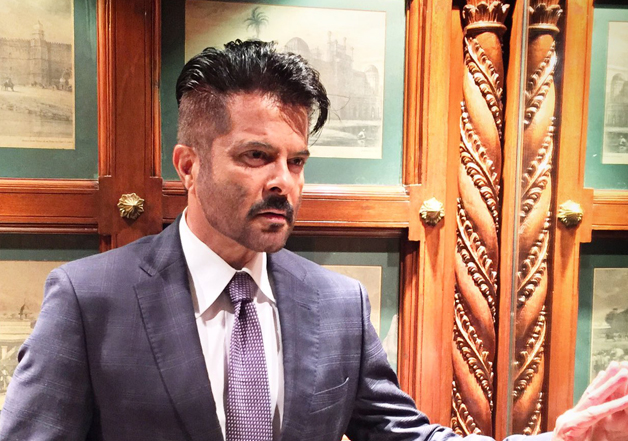 Actor Anil Kapoor is 59 but looks no older than 29. He has built a repertoire over the years that he doesn't age, owing to his energy and young looks. Now Mr. Kapoor has asserted the same again with his new hairdo.
The actor, who immortalised the word 'jhakkas', shared a picture of his new hairdo on Twitter last evening. This made him the topic of discussion on Twitter with many showering praise on him.
Here is what Anil Kapoor shared:
Life's too short to have boring hair! Trying a new look this December completed from my bucket list! On my way to the #ipoy2016 awards!! pic.twitter.com/YvhTClBvGa

— Anil Kapoor (@AnilKapoor) December 13, 2016
Actor Hrithik Roshan called it outstanding. Responding to his compliment, Anil said he hoped his wife shared Hrithik's views on the matter. The 'Welcome 2' actor asked just in case that didn't happen, could he crash on Hrithik's couch? Read the Twitter chat between them:
OUTSTANDING! 👏👏 https://t.co/CuBZpkeHUk

— Hrithik Roshan (@iHrithik) December 13, 2016
Thank you @iHrithik! I hope my wife shares your feelings...If not, can I crash on your couch? 😂😂😂 https://t.co/KHSjIuxYqr

— Anil Kapoor (@AnilKapoor) December 13, 2016
Apart from Hrithik Roshan, singer Mika Singh, actress Swara Bhaskar and comedian Tanmay Bhatt also loved Anil's new style.
Here are tweets by them:
HOW do you get cooler and younger with every passing day? https://t.co/hmdap2AodG

— Rajeev Masand (@RajeevMasand) December 13, 2016
Superb bhaaji :) https://t.co/lfVgt2hDVA

— King Mika Singh (@MikaSingh) December 13, 2016
Looking SO good sir.. as ever!!! https://t.co/3fHfxyJIyt

— Swara Bhasker (@ReallySwara) December 13, 2016
This guy doesn't age https://t.co/K9nkJnFb0V

— Tanmay Bhat (@thetanmay) December 14, 2016
Not only celebrities, there were commoners too who gave the hairdo a thumbs up.
Looking JHAKAAAS!

— Samir 💀 (@shadez) December 13, 2016
Sir everything you do is a trend setter! Class and dignity personified!

— Milap (@zmilap) December 13, 2016
.@AnilKapoor you can still win best new face in industry.

— Godman Chikna (@Madan_Chikna) December 13, 2016
Ageing backwards n how

— Uroooooooooooooooj (@MrsBaweja) December 13, 2016
With this new hairdo, Anil would surely give young actors a run for their money.
A few days ago Anil Kapoor made it to the news after he stood in ATM queue to withdraw cash. Anil said he wanted to experience by himself what the citizens of India are going through in this cash crisis. After staying put in the queue for one hour, Anil withdrew cash. Anil standing like a common man became news after few of his fans clicked selfies and posted on social media.