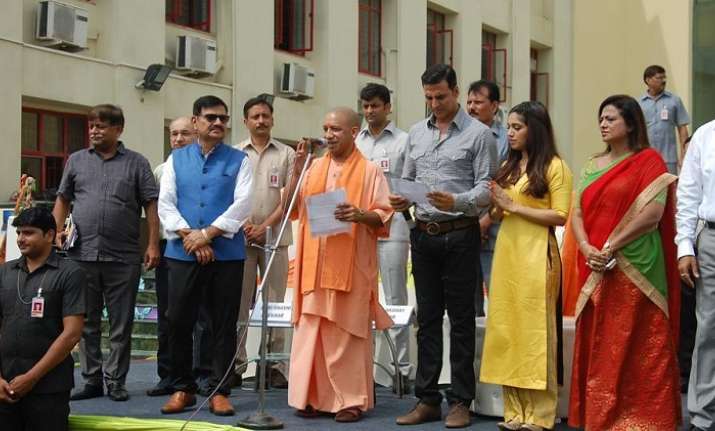 Bollywood star Akshay Kumar has grabbed a broom along with Uttar Pradesh Chief Minister Yogi Adityanath on Friday. The actor intended to raise awareness about hygiene among people and how it affects the quality of their life. The event was organised at a city school, where Bhumi Pednekar, the lead actress of Toilet: Ek Prem Katha was also present. The film is slated to release on August 11. 
Akshay Kumar and Bhumi Pednekar were present in Lucknow to unveil the anthem 'Toilet Ka Jugaad' from their upcoming film Toilet: Ek Prem Katha. After wrapping up in Lucknow, the stars are scheduled to leave for Agra to promote both cleanliness and the film, a crew member told IANS. 
Akshay Kumar tweeted a picture with Chief Minister Yogi Adityanath on his Instagram account with caption: Honored to be part of Hon. Chief Minister of Uttar Pradesh, Yogi Adityanath's cleanliness drive in Lucknow today. 
Also Read: Toilet Ek Prem Katha song Toilet Ka Jugaad out: Akshay Kumar talks about open defecation
In the picture, the actor and the hon'ble CM of Uttar Pradesh seems to be lost in a deep conversation. Earlier, on Friday morning, Akshay Kumar shared a picture in front of a jet with his actress Bhumi Pednekar from Lucknow. 
Team @ToiletTheFilm in Lucknow today to do #ToiletKaJugaad .Stay tuned song out shortly
Prime Minister Narendra Modi has lauded the concept and motive of the film. Yogi Adityanath on his part has been promoting Swachh Bharat mission as the chief executive of the state and has wielded a broom on an earlier occasion also. 
Also Read: Akshay Kumar, Bhumi Pednekar takes oath to cleanliness ahead of release of their upcoming movie
Toilet: Ek Prem Katha ,starring Akshay Kumar and Bhumi Pednekar, will be arriving at theatres on August 11, 2017. 
Watch the video here: 
For more Entertainment stories click here