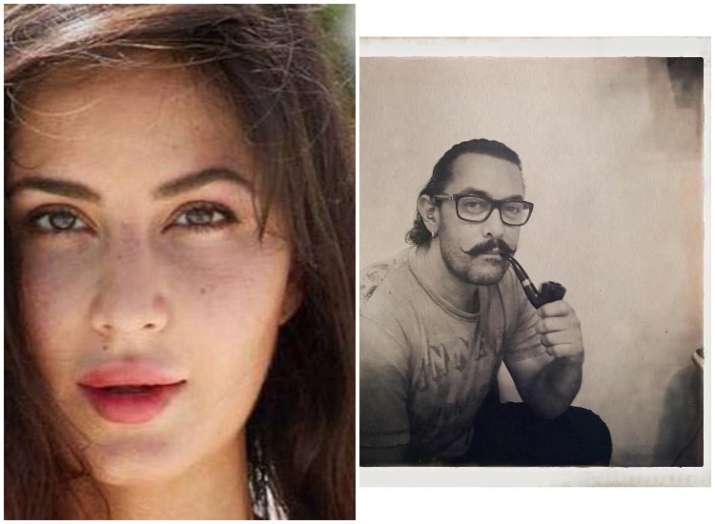 Upcoming Bollywood film Thugs of Hindostan starring Amitabh Bachchan, Aamir Khan, Katrina Kaif and Fatima Sana Shaikh is one of the most awaited films of the year. Today, Katrina gave us a glimpse of Aamir Khan's 'thug life' by sharing a picture of the superstar on her Instagram.
In the photo, Aamir can be seen holding a tobacco pipe in his mouth as he looks into the camera. With his handlebar moustache and long hair on point, the actor looks every bit a thug. His large earrings take his look to another level. Katrina captioned the picture, "#thuglife @_aamirkhan"
Recently, Aamir Khan said that Thugs Of Hindostan" is just two months away from release and he is already nervous about it.
He said while he is nervous about the film, but there's a trick he had learnt during "3 Idiots" which helps him till date.
"Just two months are left for my film, and I am already nervous. After I did '3 Idiots', I got a solution which helps you in little ways... Put your right hand on your heart and say, 'All is well'," said Aamir.
Aamir is sharing screen space with Amitabh for the first time.
Sharing his experience of having fan moments on the set, he said: "I was shooting for 'Thugs Of Hindostan' and I am a huge fan of Amitabh Bachchan. When I got to know that I am working with him, it was really exciting.
"Finally, he was in front of me, we were rehearsing, and it was really a fan moment for me. I really couldn't speak properly or remember my lines. I was a little spaced out. And I must tell you, it was joyous for me to shoot with him. Every moment with him was a fan world moment for me."
Thugs of Hindostan is all set to release this Diwali on November 7.