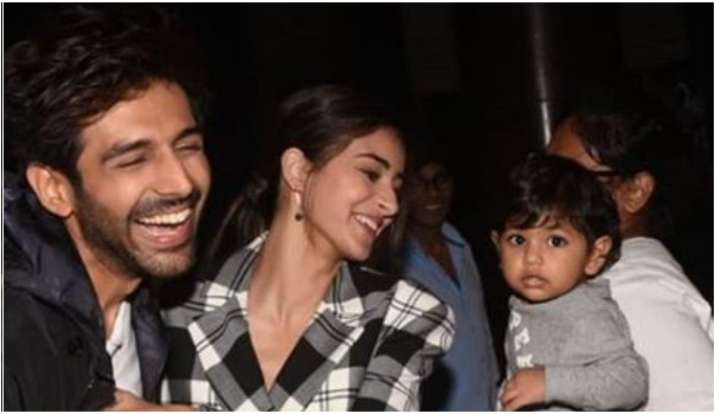 Kartik Aaryan and Ananya Panday have, of late, been busy promoting their upcoming film Pati Patni Aur Woh. Amidst their hectic schedule, the duo found some time to unwind themselves by engaging with a little munchkin. Kartik and Ananya try hard to get the attention of the baby but with no success. It seems she wasn't quite impressed with the two stars.
Watch the video of Kartik and Ananya trying to befriend the tiny tot.
Don't we behave the same way when we spot a baby?
Pati Patni Aur Woh is a remake of the 1978 film, directed by BR Chopra, of the same name. It had Sanjeev Kumar, Vidya Sinha and Ranjeeta in lead roles. While Kartik has stepped into the shoes of late actor Sanjeev Kumar; Bhumi Pednekar will be seen in the wife's character played by Vidya Sinha and Ananya will play the role of the 'other woman', originally played by Ranjeeta.
Pati, Patni Aur Woh courted controversy soon after its trailer release. In one of the scenes, Kartik Aaryan says, ''When a husband asks for sex, he becomes a beggar and if a husband tricks his wife into sex, he is a rapist." This dialogue triggered a debate on social media with people slamming the makers for poking fun at marital rape.
The dialogue has now been muted after much hullabuloo. While Kartik said that they decided to remove it as soon as they realised that the word rape shouldn't be used at all, director Mudassar Aziz questioned those slamming the dialogue.
Aziz recalled that people laughed aloud when in Aamir Khan's film 3 Idiots, the word 'balaatkari' was used several times. "By muting that word, you're not getting anything. What sort of double standard is it that in one film ('3 Idiots') a person reads 'balatkaar' 36 times from a letter and everyone was laughing," the director argued. 
Meanwhile, Kartik said, "We took responsibility because it might have come across as something that wasn't our intention. We realised we shouldn't use that word (rape) at all so we have rectified it and made changes because we don't want to hurt people's sentiments."