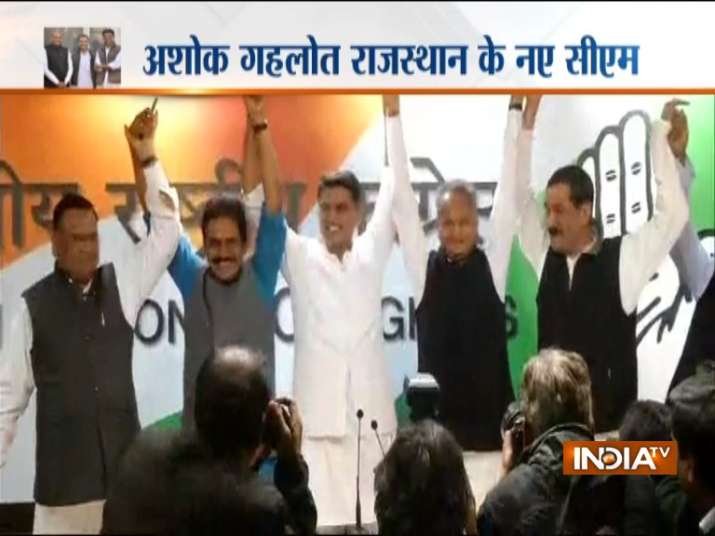 Ashok Gehlot will be the next Chief Minister of Rajasthan, said the Congress party on Friday. Sachin Pilot will be the deputy CM, the grand old party added. Two-time Chief Minister Gehlot will now take the reins of the state for the third time.
Congress president Rahul Gandhi held a series of meetings with both Sachin Pilot and Ashok Gehlot throughout the day on Thursday. He even held discussions with sister Priyanka Vadra and mother Sonia Gandhi as the battle between experience and youth intensified. Ashok Gehlot, who tried to fly to Jaipur thrice, was called back from Delhi airport. However, the deliberations failed to come to any conclusion. Rahul Gandhi met Pilot and Gehlot again on Friday morning. 
HIGHLIGHTS:
# In Lok Sabha elections 2019, we will come out with flying colours: Sachin Pilot
# I would like to thank Congress President Rahul Gandhi and other legislators for taking this decision to make Ashok Gehlot Ji the Chief Minister of Rajasthan: Sachin Pilot
# We will end the misgovernance: Ashok Gehlot​
# I'm thankful to the Congress party and Rahul Gandhi: Ashok Gehlot
# Ashok Gehlot to be Rajasthan CM, Sachin Pilot Dy CM: Congress
# Congress leader Sachin Pilot reaches All India Congress Committee (AICC) headquarters in Delhi. Abhishek Manu Singhvi also present
# Mallikarjun Kharge​ reaches Rahul Gandhi's residence 
# Sachin Pilot to be Dy CM of Rajasthan. He will also continue to be the Rajasthan Congress Chief: Sources
# Ashok Gehlot to be Rajasthan chief minister, say sources. Official announcement at Congress press conference at 4 pm.
# Congress tweets photo of Rahul Gandhi along with Ashok Gehlot and Sachin Pilot with a caption 'united colours of Rajasthan!'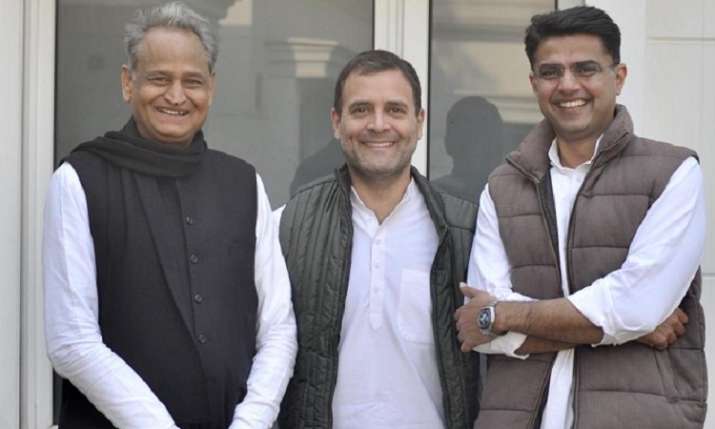 # Announcement of Rajasthan CM's name likely at 4.30 pm, say sources. 
# Sachin Pilot, Ashok Gehlot leaves Rahul Gandhi's house after meeting. Neither Pilot nor Gehlot interacted with media. No decision yet on who will be Rajasthan chief minister.
# Sachin Pilot, Ashok Gehlot and Rajasthan in-charge Avinash Pandey reach Rahul Gandhi's house for meeting.
# Decision is not being delayed, BJP is spreading lies. The BJP took seven days in Uttar Pradesh and nine days in Maharashtra to choose a CM.The process takes time, observers go to states for discussion. Whenever such decision is taken it takes time, says Ashok Gehlot
# Priyanka Vadra arrives ar Rahul Gandhi's house ahead of meeting with Sachin Pilot and Ashok Gehlot.
# Congress president Rahul Gandhi will be meeting Sachin Pilot and Ashok Gehlot at 11 am again today. The Congress is finding it hard to iron out difference between the two Rajasthan leaders vying for CM post.
Sachin Pilot is believed to be in no mood to let go his claim for the CM post. The 41-year-old leader is credited for resurrecting the tattered Rajasthan Congress after the humiliating defeat in 2013 Assembly elections. 
The suspense over the CM face triggered violent protests by supporters of Pilot and Gehlot in Rajasthan. Reports of supporters of Pilot blocking roads were also received forcing the two leaders to appeal to maintain calm and discipline. The leaders said they have full faith in the party leadership and would abide by its final decision. Protesters blocked the Jaipur-Agra highway at Dausa for some time, burning old tyres. There was a similar disruption on the Jaipur-Ajmer highway, and attempts to block traffic on other roads.
सभी कार्यकर्ताओं से शांति एवं अनुशासन बनाए रखने का आग्रह करता हूँ। मुझे पार्टी के शीर्ष नेतृत्व पर पूरा विश्वास है, माननीय राहुल गाँधी जी एवं श्रीमती सोनिया गाँधी जी जो फ़ैसला लेंगे उसका हम स्वागत करेंगे।हम सभी कांग्रेस के समर्पित,पार्टी की गरिमा बनाये रखना हम सभी की ज़िम्मेदारी

— Sachin Pilot (@SachinPilot) December 13, 2018
Congress has won 99 seats, one less than the majority mark, and BJP 73 seats in the Assembly elections held on December 7. The party, however, has the backing of its pre-poll ally Rashtriya Lok Dal (RLD), which won one seat, six Bahujan Samaj Party MLAs and a majority of the 13 Independents, who are mostly Congress rebels. 
WATCH: Congress confused over Rajasthan CM