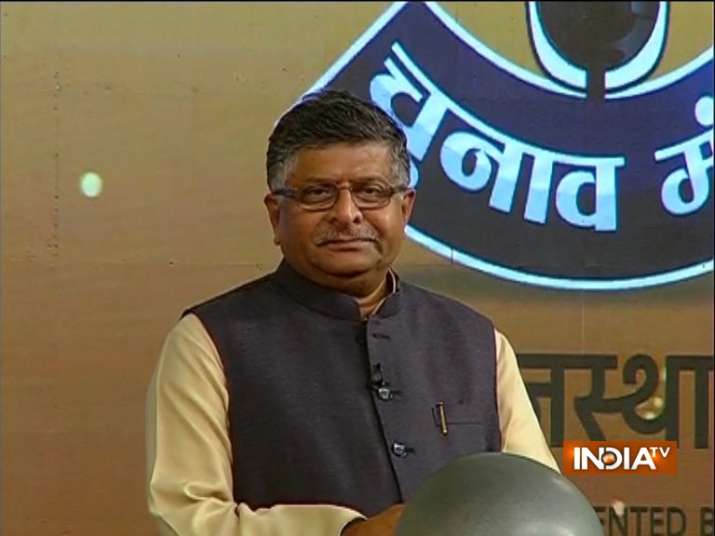 While declining to reveal that the Centre may bring an ordinance to build Ram Temple at the disputed site in Ayodhya, Law Minister Ravi Shankar Prasad said here today that the Centre "may take the Constitutional path for building the temple at the disputed site".
Replying to questions at a day long conclave "Chunav Manch" on Rajasthan assembly elections here, the Law Minister said: "We have two paths left. One, taking the Constitutional path to build the temple, and two, expect the Supreme Court to take up early hearing in this case".
Last month, the apex court had turned down pleas for an early hearing on 14 petitions filed to contest the Allahabad High Court verdict of 2010 and had posted it for hearing in the first week of January. The RSS and other allied outfits have demanded that the Centre must bring an ordinance to hand over the disputed land for building of Ram Temple in Ayodhya. 
Asked whether the Centre will take recourse to an ordinance, the Law Minister said: "I can only say that the issue would be sorted out soon within Constitutional purview (daayra). I know you are trying seek headlines from me. We have two paths left – one, the Constitutional path, and two, expecting the Supreme Court to take up the matter for early hearing."
"Samvaidhanik daayre me kaam hoga. Samvaidhanik daayra bahut vyaapak hota hai." (We will take step within Constitutional limits. Constitutional purview is too wide)
The Law Minister said: "I have no answer when leaders come and tell me that if the Supreme Court can give a verdict on adultery within one month, on Sabrimala dispute within 3 months, on Urban Naxals, within 2 months, on Karnataka assembly by sitting at 2 am in the night, then why not on the Ram Lala issue? I do expect that the Ayodhya issue will be taken up for urgent hearing by the Supreme Court."
Watch: Ravi Shankar Prasad at India TV Chunav Manch
On RSS chief Mohan Bhagwat's remark that delay in giving justice amounts to injustice, the Law Minister said: "I do not want to comment of Bhagwat ji's remark. I should not, but when he makes such comment, I have my own limits as a Law Minister."
"I hope the Supreme Court will take into consideration the sentiments of the (Hindu) society at its next hearing. This is my expectation."
On yoga guru Swami Ramdev's remark that It would be a big failure if Ram temple is not built during the rule of PM Narendra Modi and CM Yogi Adityanath, the Law Minister said: "I can only say this that we will not allow people's trust to be eroded. Our nation is mature enough."
Prasad challenged Congress President Rahul Gandhi to clarify his party's stand on Ram Temple and Triple Talaq. "On one hand, he reveals his gotra in Pushkar temple, and on the other hand his lawyer in Supreme Court is seeking hearing on Ayodhya after 2019 polls. This is nothing but vote bank politics."