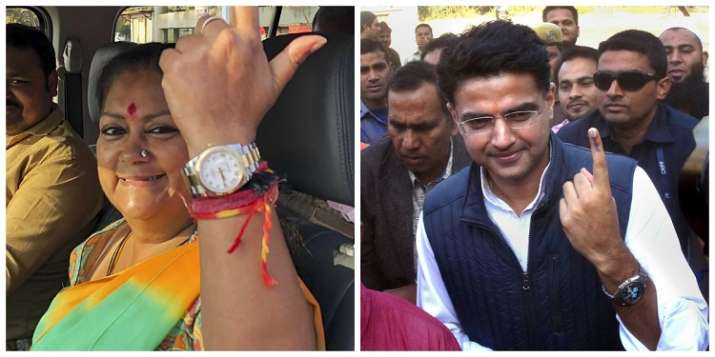 Fate of Chief Minister Vasundhara Raje, Congress state president Sachin Pilot, former CM Ashok Gehlot and others were sealed in EVMs on Friday with 74 per cent voter turn out recorded in Rajasthan Assembly Elections 2018.
The Election Commission said 74.02 per cent of voters exercised their franchise, a tally just short of the 75.23 per cent registered in the previous assembly election.
While CM Vasundhara Raje is hoping to defy history to retain power in the state, Congress' state unit chief Sachin Pilot is confident of his party's victory.
Largely peaceful voting 
The police reported a few clashes among supporters but said Friday's polling across the 51,687 booths was largely peaceful.
Special DG (law and order) N R K Reddy said ITBP jawans opened fire in the air to disperse a mob trying to enter a booth at a village in Alwar's Mundawar constituency.
A jeep was torched outside a booth in Bikaner and a motorcycle set on fire near another in Sikar but polling remained unaffected, police said.
At places in the border districts of Barmer and Jaisalmer, people walked miles through the desert to cast their vote.
In Bundi district's Hindoli area, 102-year-old Kisni Bai was among the voters. Also in Bundi, Dhapu Bai, said to be over 100 years old, was brought to the polling station on a cot by her family members.
There are 2,274 candidates in the fray for 199 assembly constituencies out of the total 200 in Rajasthan.
Polling in Alwar district's Ramgarh constituency will take place later due to the death of Bahujan Samaj Party candidate Laxman Singh.
Results will be declared on December 11, along with those from the four other states that went to the polls during the past weeks.
(With inputs from PTI)