Follow us on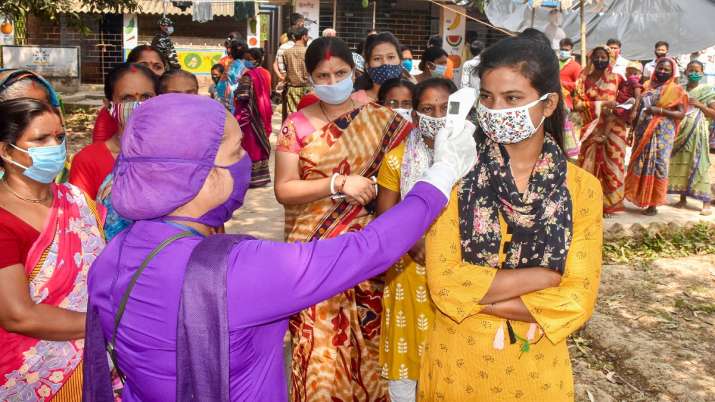 Bengal Polls Final phase: At least 76.09 per cent voter turnout was registered till 5 pm in 35 assembly constituencies where voting was held for the eighth and final phase on Thursday and the polling was peaceful, Chief Electoral Officer (CEO) Aariz Aftab said.
Polling was held between 7 am and 6.30 pm in 11 assembly constituencies each in Murshidabad and Birbhum districts, six in Malda and seven in Kolkata.
"The polling was peaceful today apart from a few incidents of violence," Aftab said.
Birbhum district registered the highest voter turnout of 81.87 per cent, followed by Malda (80.06 per cent), Murshidabad (78.07 per cent) and Kolkata (57.53 per cent), he said. The Election Commission has deployed 641 companies of security forces for the final phase. Votes will be counted on May 2.
ALSO READ | What Exit Polls predict who will win Bengal
Bengal phase 8 polling 2021 | Highlights
7:00 pm: Polling conlcudes in Bengal assembly elections.
5:37 pm: 8th phase voter turnout till 5:32 pm
Bengal has registered 76.07% voter turnout. Polling underway.
3:45 pm: Final phase voter turnout till 3:37 pm
68.46% voter turnout has been recorded till 3.37 pm in West Bengal Assembly elections, says Election Commission of India.
1 pm: West Bengal elections: 56.19 per cent voter turnout recorded till 1 pm in 35 assembly seats
11:40 am: BENGAL POLLS: lathicharge in Beliaghata
In the Beliaghata area, clashes broke out between two groups of people, following which the police restored to mild lathicharge to disperse them. Two persons, who identified themselves as BJP activists, alleged that they were roughed up by TMC workers.
11 am: West Bengal elections: 37.80 per cent voter turnout recorded till 11 am in 35 assembly seats
10 am: Bengal polls: PM Modi asks people to cast votes following Covid protocols
With the eighth and last phase of the West Bengal assembly polls underway on Thursday, Prime Minister Narendra Modi called upon people to cast their votes to enrich the festival of democracy while following Covid-19 protocols. "Last phase of the 2021 West Bengal elections takes place today. In line with the COVID-19 protocols, I call upon people to cast their vote and enrich the festival of democracy," he tweeted.
9:30 am: One person was killed and two others injured as a car hit them in Murshidabad district, triggering tension in the area
8:35 am: Specially abled voters cast their votes at a polling booth in Bolpur
8:10 am: Voting began with a half an hour delay at polling booth number 188 in Birbhum due to a glitch in the EVM
7:45 am: Mithun Chakraborty cast his vote at a polling station in Kashipur-Belgachia, North Kolkata
7:30 am: Voting underway, Visuals from a polling booth in Murshidabad
7:00 am: Voting for the eighth and final phase begins
6:30 am: Voters form queues outside polling booth number 23/24 in Malda
6:15 am: West Bengal: Election officials conduct a mock poll at polling booth number 23/24 in Malda
ALSO READ | Bengal polls: EC listens only to PM Modi and Amit Shah, says Nusrat Jahan