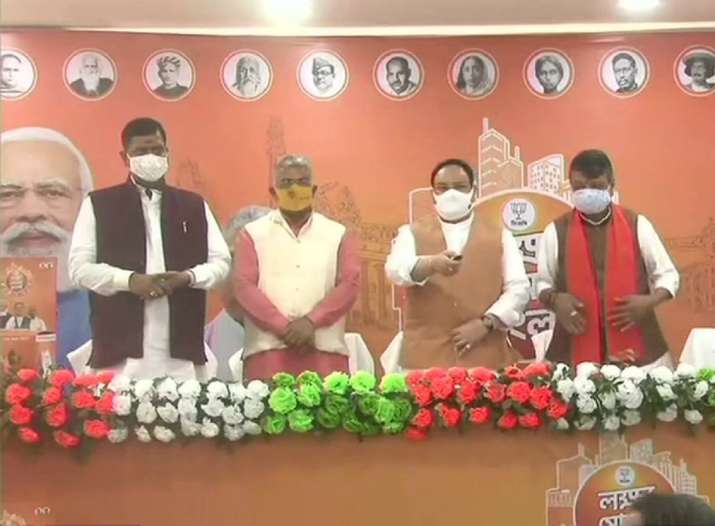 The Bharatiya Janata Party (BJP) launched the election manifesto 'Lokkho Sonar Bangla crowdsourcing campaign' in West Bengal today, ahead of the assembly poll. Party's national president Nadda, arrived in Kolkata last night and will later address a public rally. According to BJP's national media in-charge Anil Baluni, Nadda will also address a conference of the intelligentsia.
State BJP chief Dilip Ghosh and the party's National General Secretary Kailash Vijayvargiya were also present on the occasion.
Meanwhile, actor Payel Sarkar also joined BJP in the presence of party chief JP Nadda.
Nadda will also pay tributes to Bankim Chandra Chattopadhyay, the composer of Vande Mataram, at his residence and museum. Nadda's programme schedule includes lunch at the house of a jute mill labourer and prayers at the Anandpuri Kalibari temple, followed by a "Parivartan Yatra" rally.
In the evening, he will visit the ancestral home of renowned Bengali writer Bibhuti Bhushan Bandopadhyay to pay his tributes, followed by a visit to the West Bengal State Armed Police headquarters to pay homage to the martyr Mangal Pandey pillar.
The BJP and ruling Trinamool Congress, headed by Chief Minister Mamata Banerjee, are spearheading intense election campaign in West Bengal with the saffron party deploying its enviable political machinery to capture power in the state which it has never ruled. Several Union ministers, MPs and other leaders recognised for their organisational and poll management skills have been roped in by the saffron party to drive its campaign in the state, with special attention on the seats which it considers winnable.
Elections to the 294-member assembly are due in April-May. 
WATCH | Bengali actor Yash Dasgupta reveals why he joined BJP