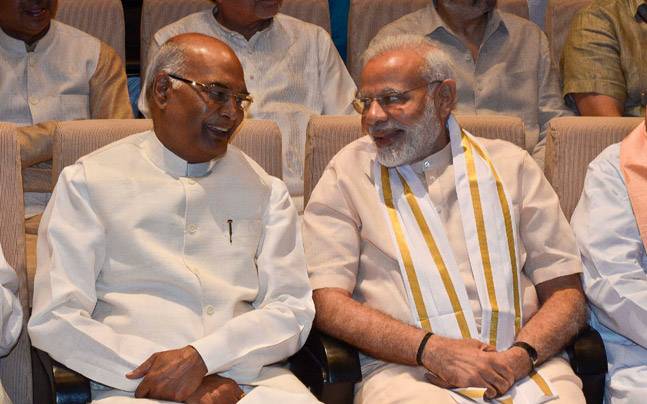 President Ram Nath Kovind, in his maiden address to the joint sitting of the two Houses of Parliament, strongly pitched for simultaneous elections to Parliament and the state assemblies, arguing that frequent polls hurt the economy by imposing a huge burden on human resources while the 'model code of conduct' impeded development activities. 
The President said a "sustained debate" was required on the subject of simultaneous elections and "all political parties need to arrive at a consensus on this issue".
President's pitch for simultaneous polls – something that has been time and again reiterated by Prime Minister Narendra Modi – has revived speculation of the 2019 Lok Sabha elections being brought forward to 2018-end when assemblies of eight states go to polls. 
His remarks came days after PM Modi made a fresh pitch for holding the polls together. 
The prime minister had said that like festivals, elections should be held on fixed dates so that governments can function for five years. 
He had also said that barbs exchanged during campaigning in one state have a bearing in other parts of the country which are not going to polls. 
Modi was of the view that once the elections are held together, the central and the state governments can devote the next five years to governance which otherwise suffers due to frequent polls.   
While the NDA government advocates simultaneous polls, the Opposition led by Congress has opposed the idea so far, suspecting that this might be Centre's strategy to divert people's attention from incumbency of BJP governments in major states like Rajasthan, Madhya Pradesh and Chhattisgarh, which are due for polls at the end of the year. 
However, Newly-appointed chief election commissioner O P Rawat had recently thrown a word of caution over the issue, saying the legal framework required to hold the two elections together will take a "lot of time" to get ready. 
Rawat had also said he would be the wrong person to respond to whether simultaneous polls could be held in 2019. 
"We cannot put the cart before the horse. Logistical issues are subservient to legal framework. Unless legal framework is in place, we don't have to talk about anything else because legal framework will take lot of time -- making constitutional amendment to (changing) the law -- all the process will take time," he had said. 
In 2016, the Election Commission (EC) had told the government that it supports the proposal of simultaneous polls but cost involved will be to the tune of over Rs 9,000 crore. 
The EC has told the government as well as a parliamentary committee that simultaneous conduct of elections would require large-scale purchase of Electronic Voting Machines (EVMs) and paper trail machines. 
"For conducting simultaneous elections, the Commission expects that a total of Rs 9,284.15 crore will be needed for procurement of EVMs and VVPATs (voter verifiable paper audit trail)," the EC had said. 
The government feels that while one-time cost in holding simultaneous polls would be high, but the exercise may bring down expenditure involved in election arrangements such as deployment of central forces and polling personnel.  
As of now, BJP has a viable option of bringing forward the Lok Sabha elections to coincide with polls in the three north Indian states. Telangana, Andhra Pradesh and Odisha go to polls along with the Lok Sabha elections and these could be preponed by a few months if the incumbent parties agree to such a proposal.