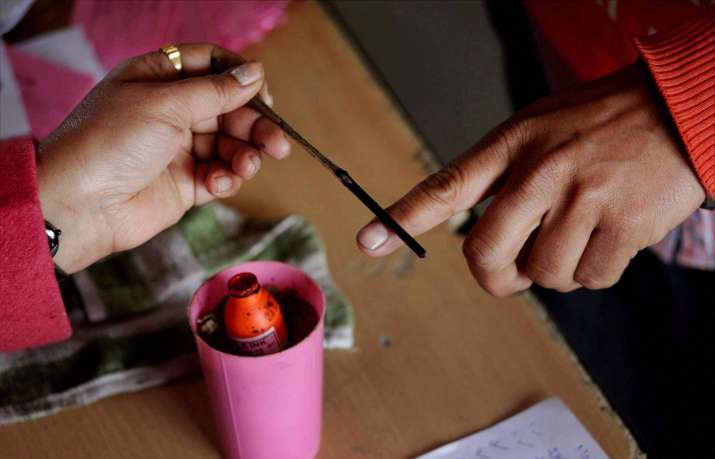 Voting took place for Araria Lok Sabha seat, and Jahanabad and Bhabhua Assembly segments in Bihar on Sunday. The by-elections involved direct contests between the NDA led by Bharatiya Janata Party (BJP) and the Grand Alliance, which got its third constituent in the Hindustani Awam Morcha-Secular (HAM-S) of Jitan Ram Manjhi, who quit the NDA to switch sides.
Both National Democratic Alliance (NDA) and Grand Alliance are using the bypolls as an opportunity to prove their superiority over the other in terms of popularity among the masses.
The bypolls to Jehanabad and Bhabua assembly seats were held following the death of sitting legislators from the RJD and the BJP, respectively. The Araria Lok Sabha seat became vacant after the death last year of Mohammad Taslimuddin, the sitting RJD MP.
As it happened: 
05:44 pm: Bihar bypolls: Araria records 57% polling; 50.06%  voting in Jehanabad and 54.03% in Bhabhua
03:00 pm: Bihar poll percentage till 3 pm​: 45% voter turnout recorded in Araria, 45.7% in Jehanabad and 48.7% in Bhabhua
02:43 pm: Bihar poll percentage till 1 pm: Araria 37.87%; Jehanabad 33.52%; Bhabhua 28.7%
01:01 pm: 
#Araria by-poll: An elderly woman casts her vote with the help of family members. #Bihar pic.twitter.com/VB2l7yVTwS

— ANI (@ANI) March 11, 2018
12:50 pm: RJD candidate for Araria by-poll, Sarfaraz Alam, casts his vote. On allegations of BJP he said, "Those who live in glasshouses should not throw stones at others. I am sure of a victory, my religion is development." 
RJD candidate for #Araria by-poll, Sarfaraz Alam, casts his vote. On allegations of BJP he said, "Jo sheeshe ke ghar mein rehte hain dusron pe pathar nahi maarte. I am sure of a victory, my religion is development.' #Bihar pic.twitter.com/88aopp6YJd

— ANI (@ANI) March 11, 2018
12:37 pm: 31.25% voter turnout recorded in Araria Lok Sabha by-poll & 24.5% in Bhabua & 28.6% in Jehanabad assembly by-polls till 12 noon
12:30 pm: Poll percentage till 11 am: Araria - 22.53; Jehanabad - 13.50; Bhabhua - 20
11:00 am: Around 12 per cent voting till 10 am in bypolls for 1 LS and 2 Assembly seats
09:55 am: 
BJP candidate for #Araria by-polls, Pradeep Singh, casts his vote. #Bihar pic.twitter.com/giMpEG8rdm

— ANI (@ANI) March 11, 2018
08:53 am: 
Jehanabad Assembly By-Poll: People queue up at a polling station in the area. #Bihar pic.twitter.com/1BBvWiptq5

— ANI (@ANI) March 11, 2018
07:47 am: Araria: Complaint lodged against Bihar BJP state president Nityanand Rai on charges of violating the model code of conduct for his comment stating 'If Sarfaraz Alam (RJD candidate) wins the bypoll then Araria will become hub of ISI'
07:10 am: 
#Bihar: Voting for Lok Sabha By-election begins in Araria. pic.twitter.com/e1dPDoJYnO

— ANI (@ANI) March 11, 2018
06:50 am: While the NDA leaders are confident that they will win all the three seats, the Grand Alliance leaders have repeatedly claimed to pull out victory even in the absence of their star campaigner and Rashtriya Janata Dal (RJD) chief Lalu Prasad - behind bars in connection with two fodder scam cases.
06:40 am: No matter which way the results go, this by-election provide both BJP and RJD an opportunity to take on each other directly in Bihar, as a precursor to parliamentary polls next year when they will also, most likely, be the main opponents. Ever since the Nitish Kumar-led Janata Dal-United (JD-U) joined the NDA back, the BJP has virtually replaced the former as the main rival to Lalu Prasad's RJD.
06:30 am: This has triggered a debate in the political circles whether Nitish Kumar has accepted the role of a junior partner in state politics. By accepting the BJP offer to contest from Jehannabad, after announcing publicly not to fight the by-elections, the JD-U has given an opportunity to the BJP to prove that it is number one in Bihar NDA.
06:20 am: The BJP also ignored the demand of its other smaller ally in the state, Rashtriya Lok Samta Party (RLSP) of Union Minister Upendra Kushwaha who was also keen to field his candidate from Jehanabad. A senior BJP leader said that party has decided in favour of the JD-U to contest from Jehanabad to send a political message that the NDA can accommodate its allies to keep the alliance stable.
06:10 am: In a similar fashion, the RJD offered Bhabua seat to the Congress at the last moment "to strengthen the Grand Alliance" as the Congress leaders made public their keenness to contest against the BJP from there.
06:00 am: In Araria Lok Sabha seat, the RJD has fielded Sarfaraz Alam -- son of Taslmiuddin -- who was a sitting legislator of the ruling JD-U. Last month, he left the party, and the assembly, to join the RJD. He is also a former legislator from Jokihat in Araria district.
RJD is hopeful of its traditional support base among Muslim-Yadav (MY) combine along with Dalits, which forms a major chunk of the electorate in Araria. The party is also hoping that Alam would get a chunk of sympathy votes for his father.
On the other hand, BJP nominee Pradeep Kumar Singh is hopeful of support among the upper castes and the extremely backward castes, as he had secured 2.61 lakh votes in 2014 Lok Sabha polls, losing to Taslimuddin who had got 4 lakh votes.
(With inputs from agencies)