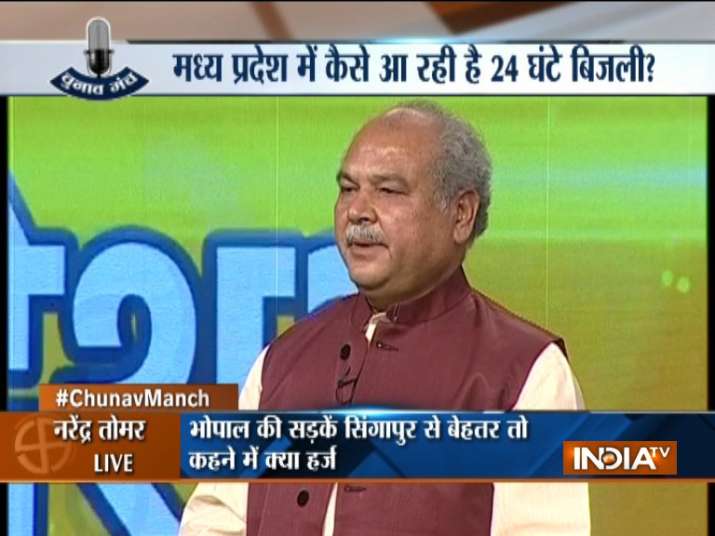 Stressing that Shivraj Singh Chouhan has done enough to retain power in Madhya Pradesh, Union Minister of Rural Development, Panchayati Raj and Mines Narendra Singh Tomar on Saturday flayed the Congress for being anti-poor. Tomar said the Congress is battling for its own survival. 
Speaking at Chunav Manch-India TV's mega conclave on Madhya Pradesh Assembly Elections 2018 in Bhopal, Tomar said Congress has no other face than Rahul Gandhi. 
Tomar, who represents Gwalior in the Lok Sabha, said that Congress leaders are trying hard to portray that the party is united. "Congress leaders and workers are disappointed but they are trying to stay strong and united. Congress has no other leader than Rahul Gandhi who can keep the party together," he said. 
He accused the Congress of trying to instigate trouble in Madhya Pradesh and said that violent farmers protests in Mandsaur was 'sponsored by the Congress'.
"Congress only remembers farmers during elections. It raises issues like women safety, developments just for votes," Tomar said.
Talking about Shivraj government is Madhya Pradesh, Narendra Tomar said that the state has witnessed all round development during the BJP rule. "No other leader has worked for Madhya Pradesh like Shivraj Singh Chouhan. He will retain power on the basis of his work," the Union minister said.
Responding to a question over report that the BJP will not be giving ticket to 70-80 sitting MLAs in Madhya Pradesh, Tomar said it was for the election committee of the party to decided who all should get ticket. 
"Who told you that 70-80 sitting MLAs won't be given ticket this time? This is false," Tomar said. 
WATCH: Congress has no other face than Rahul Gandh: Narendra Tomar