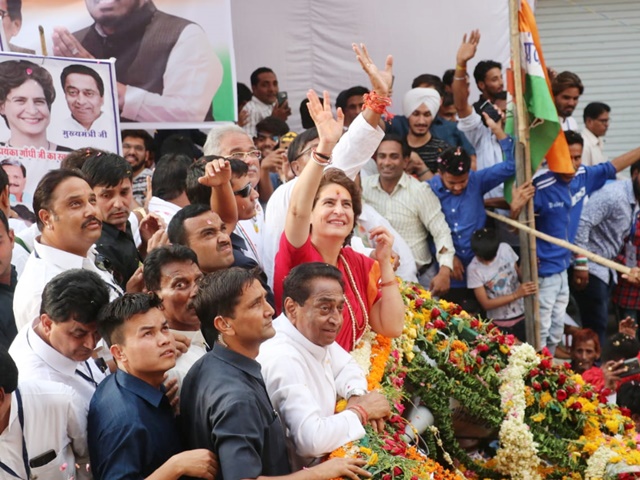 How would you define your reaction when during your cavalcade you hear chants of your rival's name?
Angry? Sad? Disheartened?
That's what a regular, common person would do. Not Priyanka Gandhi Vadra.
The Congress general secretary for eastern Uttar Pradesh was quite a sport, and more than that, a kickass politician, when she heard chants of 'Modi, Modi' emanating from a group of people as her car crossed by.
Priyanka Gandhi did not ignore this. She stepped out of her car, shook hands with the Bharatiya Janata Party (BJP) supporters and wished them all the luck.
"Aap apni jagah, main apni jagah. All the best," she told the Modi supporters.
The supporters, in turn, said: "All the best aapko bhi [to you too]."
She was campaigning in Madhya Pradesh's Indore.
In the run up to May 23 -- the day of result of the ongoing Lok Sabha polls, Priyanka Gandhi, along with her brother - Congress chief Rahul Gandhi, has emerged to be a quite a force. She has been holding rallies and interacting with people from every strata of the society.
Not only this, she has been tactically targetting Prime Minister Narendra Modi (read: taking the high road). In another such instance, Priyanka Gandhi shushed a few kids when they sloganeered in favour of the Congress party and abused PM Modi.
The BJP, however, got riled up and slammed her. A child panel registered a complaint against her, in response of which she issued a clarification that she did ask them to not abuse PM Modi.