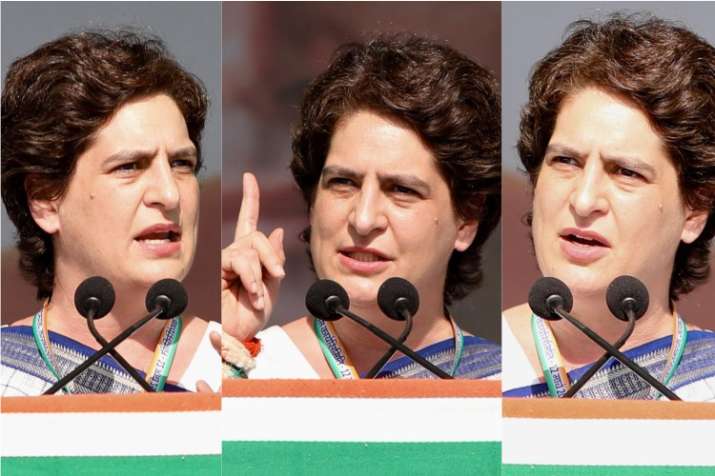 Tuesday came as a surprise for thousands of Congress workers and supporters in Gujarat. The occasion, which was primarily anticipated to be a debut show for Hardik Patel's entry to Congress Party, Priyanka Gandhi stole the thunder. 
No one expected Priyanka Gandhi Vadra to say anything, leave alone a speech. Was it an impromptu or planned speech by Priyanka Gandhi Vadra, we don't know? But when she took the mike, it was an effortless show. 
Priyanka Gandhi began by first thanking the people. "Pehli Baar mai Gujarat ayi hun (I have come to Gujarat for the first time)," she began, instantly striking a chord with the public – who listened in rapt attention. Needless to mention that television channels across the country beamed it live. 
Priyanka Gandhi's speech was full of emotion. She urged voters to be aware of the right issues. Priyanka also took on the Modi government when she asked people, "Woh do [read 2] crore rozgar, Unhone apko vachan diya tha wo rozgar kahan hain? Jo 15 lakh aapke khate mey aney they woh 15 lakh kahan gaye? ("Where are the 2 crore jobs. What happened to the Rs 15 lakh in every bank account promised by them [Read PM Modi]?"
Priyanka, however, didn't mention "PM Modi" once in her speech and relied on cues.  Priyanka Gandhi used her speech to tell people that it was the "hatred" that people need to guard against. 
Here's the full text of Priyanka Gandhi speech. You can also watch the video below. 
"Pehli baar Mai Gujarat ayi hun. Pehli baar mai Sabarmati ke us aashram me gayi jahan Gandhi ji ne desh ki azadi ka sangharsh shuru kiya tha. Mai bata nahi sakti apko, wahan ke pedon ke neeche baithe hue bhajan sunte hue mere dil me kya bhawna jagi. Aise laga jaise aansoon ane wale hain. 
(I have come to Gujarat for the first time. For the first time today, I went to the Sabarmati Ashram, where Gandhi Ji started his struggle for independence. I can't tell you how I felt while sitting under those trees, listening to bhajans. I felt I was about to break into tears.)
Maine un desh bhakton ke bare me socha jinhone jeevan sangharsh kiya. Jinhone is desh ke liye jaan di. Jinhone sab kuch tyag diya. Jinke balidaan par is desh ki neev dali hai. Mere wahan baithe hue mere mann me ye baat ayi ki yeh desh -- prem, sadhbhawna, aapasi pyaar ke aadhar pey bana hai. 
(I was thinking about those patriots who dedicate their lives to struggle. Who gave their lives for the country? Who forsakes everything? Whose sacrifice built the nation? Sitting there, I realised that the country was built on the foundations of love, harmony and brotherhood.)
Aaj jo kuch desh me ho raha hai ussey dukh hota hai. Aur aap sab yahan itni tadat me aye hain, mai dil se aapko kehna chahti hun ki issey badi koi desh bhakti nahi hain ki aap jagruk bane. Aapki jagrukta ek hathiyar hai. Aapka vote ek hathiyar hai, lekin ye ek aisa hatiyar hai jissey kisi ko chot nahi pahuchani, kisi ko dukh nahi pahunchana, kisi ka nuksan nahi karna. Ye ek aisa hathiyar hai jo aapko mazboot banayega. 
(What is happening in the country today saddens me. I want to say this to the large audiences present here, there is no bigger service to the nation than being aware. Your vote is a weapon, but it is not for causing anyone any harm. This weapon will make you strong.)
Aapko bahot gehrai se sochna padega ki ye chunav kya hai. Aap kya chunne ja rahe hain? Aap apna bhavishya chunne ja rahe hain. Fizul ke muddey nahi uthne chahiye. Jo muddey uthne chahiye, wo hain ki apke liye sabse mahatwapurna kya hai?
(You will have to think what exactly this election is about. What are you going to choose in this election? You are going to choose your future. Useless issues should not be raised. You will have to pick the right issues.)
Aap agey kaise badhenge? Berozgaron ko rozgar kaise milega? Mahilaye agey kaise bhadengi? Kisano ke liye kya kara jayega? Yeh chunavi muddey hain. Aapki jagrukta hi in muddon ko agey la sakti hai. 
(Issues which should be raised must comprise as to what is most important for you and how can you move forward. How will youth get jobs? How will women feel safe? What will be done for farmers? These are the issues before us.)
Mai apsey agrah karna chahti hun ki soch samajh ke nirnay lein. Jo apkey samne badi, badi baaten karte hain, bade, bade vadey karte hain. Unsey poochiye. Woh do [read 2] crore rozgar unhone apko vachan diya tha wo rozgar kahan hain? Jo 15 lakh aapke khate mey aney they woh 15 lakh kahan gaye? Jin mahilaon ki baaten karte the.. un mahilaon ko kisne poocha hai pichle 5 saaal mey?
(I request you to take an informed and intelligent decision. People who engaged in big talks and big promises should be asked where is the 2 crore employment you promised. Ask them where's the 15 lakh that you promised. They keep talking about women empowerment buy have the cared for women?)
Sahi sawal kariye is chunav mey. (Ask the right questions during elections.)
Aane wale samay me kai muddey apke samne uchale jayenge. Aapki jagrukta hi is desh ko banayegi. Yeh aapki jimmedari hai, aapki desh bhakti isemey prakat honi chahiye. Toh yahan pe [Gujarat] jahan sey hamari desh ki azadi ki ladai shuru hui thi. Jahan se Gandhi ji ne prem, sadhbhavna, aur ahinsa ki awaz uthayi thi, mai sochti hun yahin se aawaz uthni chahiye.
(Lot of issues will be escalated during this election. Your awareness is the only thing that can save this country. Gujarat is the birthplace of Mahatma Gandhi and this is where India's freedom movement began. I think this awakening should begin from Gujarat, Priyanka Gandhi said while addressing a rally in Gandhinagar. 
(Pause)
Jo fitrat ki baatein karte hain aapke samney, aap unhe bataiye ki is desh ki fitrat kya hai. Is desh ki fitrat hai ki zarrey, zarrey me sachai dhoondke nikalegi. Is desh ki fitrat hai ki nafrat ki hawaon ko prem or karuna me badlegi.
(People who talk about character, show them what is the true character of this country. Truth, at any cost, is the ultimate character of this country. Love and empathy are engrained here. 
Yeh aawaz aap yahan se uthaiye. Aaney wale dino me sahi muddey uthaiye. Sahi sawal kariye. Kyunki ye desh apka hai. Aapne banaya hai. Mere kisan bhaiyon me banaya hai. Meri behno ne banaya hai. Naujawano ne banaya hai, jo din raat mehnat karte hain. Aur kisi ne ye desh nahi banaya hai, yeh desh aur kisi ka nahi hai. 
Ask relevant questions. Raise your voice. This is your country, no one else will be responsible there.
Is desh ki hifazat sirf aap log kar sakte hain. Aap ek ek jana jo yahan baitha hai, is zimmedari ko samajhiye. Agey, jaise Paresh ji ne kaha, azadi ki ladai se koi kam nahi hai. Hamari sansthayein nasht ki ja rahi hai. Jahan dekhe wahan nafrat phailai ja rahi hai. Aur hamare, aur apke liye issey badi koi cheez nahi ho sakti ki hum desh ki hifazat kariye aur desh ke vikaas ke liye agey badhen. Mai aapka dhanyavaad karna chahti hun ki apney mera yahan swagat kiya aur mujhe yahan bolne ka mauka diya.
I urge you to protect this country. Our institutions are being destroyed. Wherever you see, hatred is being spread. Nothing matters more to us that you and I protect this nation, work for it and move forward together.
FULL VIDEO: