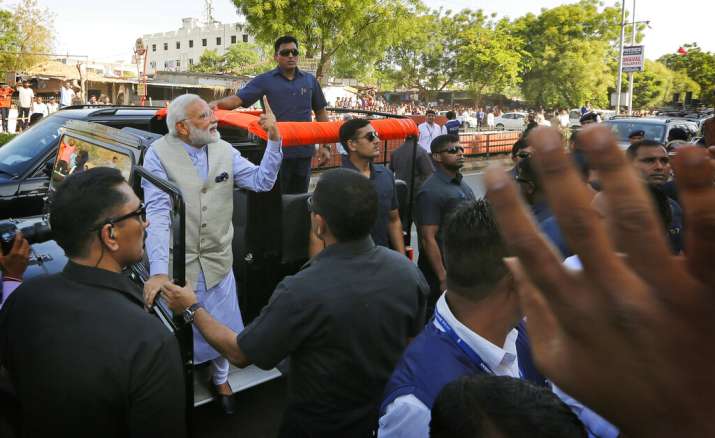 Prime Minister Narendra Modi will hold a mega roadshow and take part in the 'Ganga aarti' in Varanasi today, before he sets out to file his nomination paper on Friday.
The mega roadshow is expected to stretch over six kilometres, going from Lanka to Dashashwamedh Ghat via Godoliya.
Accompanied by the seniormost leaders of the Bharatiya Janata Party including Union ministers Sushma Swaraj, Nitin Gadkari, Piyush Goyal and Nirmala Sitharaman, besides BJP chief Amit Shah, the campaign is set to be a definite show of strength for the National Democratic Alliance, with leaders from across India joining it.
Preparations for PM Modi roadshow in full swing
Among the allies attending the event are Bihar chief minister and JDU chief Nitish Kumar, Shiromani Akali Dal leader and former Punjab CM Parkash Singh Badal, Lok Janshakti Party leader Ram Vilas Paswan and Shiv Sena chief Uddhav Thackeray along with leaders of the AIADMK, Asom Gana Parishad, Apna Dal (S) and constituents of the North-East Democratic Alliance are expected to be present.
The roadshow will begin at around 3 p.m. after the prime minister garlands the statue of Banaras Hindu University founder Madan Mohan Malaviya.
Later in the night, Modi will interact with local intellectuals in his constituency.
On Friday, the prime minister will hold a meeting at 9 a.m. with Bharatiya Janata Party workers at a hotel in the cantonment area.
He will then offer prayers at the Kaal Bhairav temple before leaving for the collectorate to file his papers, seeking re-election from the Lok Sabha seat.
Varanasi goes to polls in the final phase of elections on May 19.
(With inputs from agencies)